Business
Accounting Conference Gives Students Exposure, Membership in Professional Association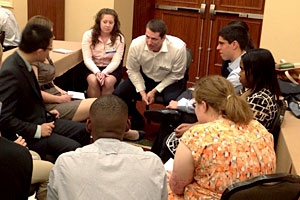 Young accounting students face a number of daunting questions as they move closer to their goal of being a CPA: Do I want to work for a large firm or an independent firm? How should I study for the CPA exam? What will the transition from school to the real world be like?
While these questions don't have a single answer, many Kogod students recently had the opportunity to begin answering them for themselves at the Virginia Society of Certified Public Accountants' (VSCPA) Leaders' Institute.
Each year, the VSCPA hosts a Leaders' Institute for accounting students in the Virginia/D.C. region. During the two-day event, students have the opportunity to network and attend panels with accounting professionals and their peers.
Below, four Kogod students share their favorite experiences from this year's conference.
Megan Audet, BS Accounting '15
Hometown: Lawrenceville, New Jersey
My experience at the Leadership Institute exceeded my expectations. I thought the two day conference would just be presentations, but it was much more interactive than that. On the first day we had the chance to meet with our peer groups and meet students with similar interests in the accounting field. Each peer mentor was a staff member at Baker Tilly, so we had the chance to interact with insightful professionals. There was also a fantastic presentation about personal finance, which I think is extremely important for students our age to learn more about.
The second day consisted of more presentations and opportunities to interact with accountants and learn from their experiences. Every individual that I spoke to at the conference had something to something to offer. I learned so much at the conference and had an unbelievable opportunity to network and gain valuable advice from professionals in my future career. Because I attended the conference, I have the privilege of being a student member of the VSCPA. I look forward to utilizing this membership to learn more about the accounting profession and help foster my professional career.
Jeremy Sisk, BS Accounting '15
Hometown: New Providence, New Jersey
At the beginning of the conference, we were split up into groups. In my group I had the opportunity to meet many students, who like me, had a strong interest in accounting. I was able to ask them some of the questions I had about the field as well as answer theirs.
Another highlight for me was the CPA exam panel. Going into the conference, I knew little about the actual CPA exam other than I needed 150 credits to take it and I had to pass it. The panel was able to answer many questions as well as provide tips on how to study, when you should take the tests, and how to manage your time while studying and working.
My favorite part about the Leadership Institute was the "Meet the Firms" session. At this session, students were able to talk to the many different firms in the area that sent representatives to the conference. There were roughly 15 different companies at the session ranging anywhere from the Big Four to small firms. I was able to meet with all the companies I found interesting and network with their recruiters. I was also able to get a better grasp on whether I wanted to work for a big firm or smaller firm.
Overall, as an undergraduate, the VSCPA Leadership Institute was a great program that furthered my understanding of the accounting world, and I would recommend it for everyone studying accounting.
Christy Kulak, BS Accounting '15
Hometown: Hamilton, New Jersey
[This] was a great change for a few of us Kogod accounting majors to go to George Mason's campus and meet other accounting students from all over Virginia. While there we were able to learn extremely important skills for our future careers, such as how to network, how to present ourselves in a professional manner, and how to succeed in our careers despite the intimidating transition from school to the work place.
My best memory of the Institute was the Meet the Firms night where more than 20 firms were set up in the conference room and we had the opportunity to talk to people from each firm and ask the questions we had on our minds.
Esther Saidi, BS Accounting '14
Hometown: Harare, Zimbabwe
Session after session at the conference was packed with information that not only changed my perspective on how to start preparing to become a CPA but also how to manage personal finances. One positive benefit of the conference was that participants were exposed to many of the underpinnings of planning and sitting for the CPA exam and becoming a competent CPA thereafter.
The event "Speed dating: CPA style" was quite interesting. More than twelve CPAs moved from table to table, answering questions from participants and offering advice on the road to becoming a CPA and beyond. This form of personalized collaborative interaction provided a more thorough opportunity to hear the different stories of the professionals, what worked for them and what challenges they faced.
Before the conference, VSCPA rolled out Connect, an online feature that allows all participants to connect and interact, ask questions and receive answers promptly from various VSCPA members. This was especially useful, because sometimes, the utility of an idea would often not become obvious until some point in the future. With the chat log, however, I can easily look up the conversation again and take advantage of the discussed points.
Jasmine Simawang, BS Accounting '14
Hometown: Frederick, Maryland
Looking back to last semester, I cannot thank Professor Bedford or Professor Lindsey enough for encouraging all of their accounting students to apply and attend the VSCPA Leaders' Institute. We enjoyed access to potential employers, mentoring opportunities with young CPAs and networking opportunities with other academically gifted accounting students. The Institute really had a great agenda put together for the students.
My favorite events were the Meet the Firms networking reception, and Speed Dating: CPA Style. Other sessions included icebreakers with your team and team leader, who were professionals in the field who donated their weekend to lead a group of students during the program, a leadership session, a financial awareness session, and a session about how to interview your employer. This was one of the most rewarding experiences of my career thus far and I plan advocating the program next year.