Business
Professor Jeffrey Harris Becomes First Gary D. Cohn Goldman Sachs Chair Position Created with Support from Alumnus's Gift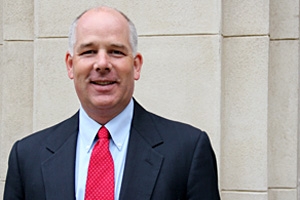 Jeffrey Harris joined Kogod this fall as a tenured professor in the Finance department. His position, the Gary D. Cohn Goldman Sachs Chair in Finance, was created through the generosity of Cohn, BSBA '82, and Goldman Sachs, where Cohn serves as president and COO.
Harris comes to Kogod after ten years at the University of Delaware and two years at Syracuse University, where he was the Dean's Chair in Finance. He also served as the chief economist at the U.S. Commodity Futures Trading Commission (CFTC) from 2007-2010.
Areas of Expertise
Harris has a wealth of groundbreaking research that began early in his academic career. His first published paper examining conflicts of interest between market traders and regulators led to a major restructuring of the NASDAQ stock market in the mid-1990s.
"That paper definitely kickstarted my career," Harris said. "I discovered that I liked grinding away at big data sets and wasn't too bad at it."
From there, Harris began looking at economic issues related to day trading and initial public offerings (IPOs). It proved fruitful.
"In the IPO market, there are conflicts of interest all around," he said.
In 2005, Harris presented his research on electronic trading to the U.S. Commodity Futures Trading Commission (CFTC) just as futures trading pits were giving way to electronic trading. His interest in futures trading in commodities markets, especially oil markets, was growing.
After digging into the oil markets and discovering futures markets problems could be addressed with his skills in analyzing electronic data, Harris accepted the position of Chief Economist at the CFTC in 2007, where he remained until 2010.
"I think the key to carrying out cutting-edge research is...staying on top of what's going on in the industry," he said. "It's vital to keep in contact with professionals in the field and ask them what they'd like to know about their business."
Harris's current areas of research examine trading networks and explore how market rule changes affect trading behavior.
Joining Kogod
For Harris, who has provided testimony before Congress on several occasions, Kogod's commitment to staying current with new policies and initiatives was very attractive.
"There's a great synergy between Kogod and its government neighbors," he said. "It's a very active school and that was very appealing."
Harris is looking forward connecting his research with his Kogod students.
"I like to be very hands-on when I teach and involve my students in as much of my research as I can," he said. "By pushing their boundaries, I think students are better prepared for life beyond the classroom."
This fall, Harris is teaching Finance 576: Student-Managed Investment Fund (SMIF) for undergraduate and graduate students, and Finance 614: Financial Management for graduate students.