Business
Alumnus Utilizes Digital Marketing to Support Dr. Oz Brand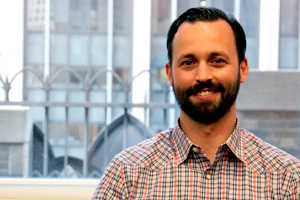 Picture the cleaning aisle at the supermarket: shelf after shelf of similar but different products. This one comes in spray only, that one promises to be eco-friendly, and that one has an easy-squeeze handle. Every one of these distinctions is the result of careful planning by a product design team.
It's the product designers who create the identity of the item for sale. They pinpoint the product's ideal purpose and imagine the packaging. In essence, they tell consumers why they need the product in their lives.
Dave Lankford, BSBA '99, has excelled at just that as the vice president of product for Dr. Oz Digital, the online home for Dr. Mehmet Oz and his television show, dedicated to promoting public and personal health. But instead of designing a traditional consumer product like household cleaner, Lankford and his team have designed an online presence for a digital brand.
Tangible Results on an Intangible Platform
Building loyalty to a brand is no easy task when it comes to a physical product like a household cleaner, but when it comes to a digital product it's even more difficult, Lankford thinks.
"Designing digital products is still a relatively new field," Lankford said. "When it comes down to it, the process is pretty much the same [as for physical products] but the results are less tangible and that can be a challenge."
Lankford and his team are responsible for distilling all aspects of the Dr. Oz organization into one unifying online presence, and Lankford is the editor of that digital image.
"Everyone in the organization contributes ideas into the pile of ore for the Oz brand. It's my job to go through the pile and find those pieces that can be refined into a diamond."
Building a Bridge
Another challenge for Lankford and his team is keeping the engagement going between Dr. Oz and his fans beyond the television viewing audience.
"Our viewers are sitting down and watching the show for just an hour a day," Lankford said. "It's the website's job to keep the conversation and engagement going for the other 23."
This is where Lankford's dual-degree in psychology becomes useful. By understanding the behavior of their site users, Lankford and his team can improve their product and provide a better experience.
"It's important to get in the mindset [of the user] when it comes to digital," he said. "That's really the only way to know what they're looking for when they visit the site and make it a meaningful experience."
Thanks to his time at Kogod, and especially his participation in the business fraternity Alpha Kappa Psi, Lankford has always known that succeeding in business requires cooperation across disciplines. He's applied that to his work at Dr. Oz.
"You have to find people who think about business differently than you do and who are willing to work with you to reach the goal," he said. "It takes all the stakeholders in an organization—editorial, engineering, design—working together to adapt. I'm so grateful that Alpha Kappa Psi opened my eyes to that kind of teamwork while I was in school."
Power of a Brand
Lankford believes business skills are universal and have a place everywhere, even outside the business world. To him, no skill is more important than effective brand management. Beyond his role at Dr. Oz, Lankford puts these skills to use daily as the executive director of The Shelter, an independent theater group in New York City.
"I use my business skills daily running the theater and try to pass them along," he said. "Every person and organization, even actors and theaters, need to understand their brand and how to present that brand accurately to the world."