Business
Jina Etienne: New President and CEO of NABA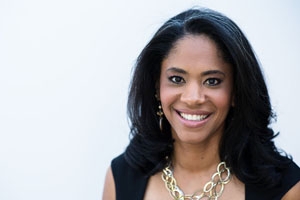 For Kogod alumna, Jina Etienne, BSBA '89, September 2015 will be a memorable month. Following a selective search, Etienne was selected as the new President and Chief Executive Officer of the National Association of Black Accountants, Inc. (NABA). But her trajectory to this position started at Kogod.
"During my time at AU, the school provided both internship and co-op opportunities to students to provide real-world experience related to their studies. I obtained a co-op position in a "Big 8" accounting firm that did not recruit at AU," said Etienne. "So, without the co-op, I would have never made it into the "Big 8" directly out of undergrad. I credit the start of my career in public accounting to that co-op and am grateful that the AU Career Center made those opportunities available to students."
Prior to this new position Etienne was the Director – Taxation of the 412,000-member American Institute of Certified Public Accountants (AICPA). She was the founding member of a boutique CPA firm, which she ran for 17 years, offering small and medium sized businesses a wide range of consulting services. Etienne began her career at Deloitte almost 26 years ago, after her graduation from American University.
In addition to Etienne's professional path, she has served as an adjunct accounting professor at American University, here in our MBA program. She authored numerous articles on taxation matters and has been a featured speaker at conferences and on web casts. The topics have ranged from tax practice management to tax practitioner methods.
Upon receiving the new appointment at NABA, Etienne said, "NABA is poised for tremendous growth and new opportunities for its current and future members, stakeholders and corporate partners. NABA has been a catalyst for change in the diversity profile of our profession since its inception and while the organization's impact has been significant in its 46 year history, there is much more work to do. I look forward to continuing the diversity and inclusion dialogue with our members, corporate partners, stakeholders and other leaders of our profession to increase the recruitment, retention and advancement of African-Americans and other minorities in our profession."
Etienne lives in Silver Spring, Maryland, with her husband, two sons and her shepherd/lab mix, Coda. She is a novice runner and loves Sudoku, cake decorating and karaoke.