Business
Breaking Into Wall Street: AU's Financial Management Association Continues to Network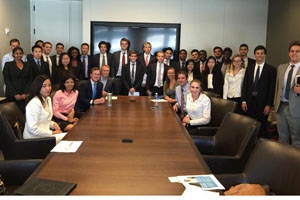 In order to continue their financial education outside the classroom, AU's Financial Management Association (FMA) traveled to New York City on September 18th to provide an opportunity for students to network with alumni in the financial sector. During the trip, they visited organizations such as UBS, Societe Generale, JP Morgan, NyMex, Nasdaq and the Federal Reserve. While there, they were able to gain a deeper look into the financial industry by speaking with several professionals.
"Networking and making connections early are key in the finance field," said Dasha Savchenko, a Kogod sophomore who helped coordinate the trip. "This experience gave me a realistic insider perspective into what Wall Street is all about and what it has to offer."
Another club member, Brad Chabra, noted that his one-on-one interaction with AU alumni on Wall Street at sites like JP Morgan gave him an "immeasurable insight to the financial world."
With a focus on increasing networking opportunities for students interested in finance, the FMA organizes site visits, alumni panels, and other opportunities for professional interaction among academics, practitioners and students.
Students interested in joining the FMA can attend their next general meeting on Wednesday, October 14th or email contact.fma.au@gmail.com for more questions. Additional events are being planned this semester and next, including another networking trip to New York City in the spring.