Business
Undergraduate Students Win Big at OSU Case Competition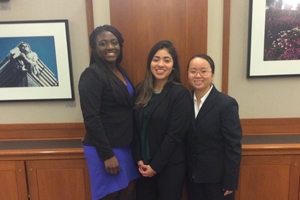 It usually takes four years to earn a bachelor's degree and another two years to complete the MBA curriculum. But over the course of just four days last October, I had an extraordinary opportunity to immerse myself in workshops and lectures on leadership, creativity, innovation, analytics, entrepreneurship, persuasive communication, and presentation skills.
All of this happened at the 8th Annual KeyBank and Fisher College of Business Leadership and Creativity Undergraduate Minority Student Symposium at Ohio State University.
Thanks to K-LAB, I attended the symposium with two fellow American University students – finance major, Tuyet Hoa Adamovich, and business language and culture major, Daniela Salazar.
For me, one of the symposium highlights was a marketing case competition focused on segmentation, targeting, positioning, and implementation. On the night of our arrival, participants were split into teams and asked to prepare a case analysis for presentation at the end of the symposium. I am proud to report that Tuyet and Daniela were on winning teams. This is a testament to the diligence of my fellow American University students.
Here at American, I am currently majoring in Business Administration with a Marketing Management specialization, minoring in Psychology, and pursuing a career in management consulting. It is challenging to be part of a minority community. Indeed, African-Americans comprise only six percent of the student body at American University. As I progress into the workforce, I am acutely aware of the barriers that I could encounter as an African-American woman. The symposium gave me a chance to build a support system with other minority students, discuss these barriers and ways to overcome them, and gain skills that enable me to improve my personal brand and become a more competitive candidate.
A consultant needs to possess intellectual curiosity, the ability to analyze data, creativity and innovation when thinking of viable solutions, logical reasoning to make decisions and persuasive communication when delivering recommendations. As a young professional, the skills I gained during the symposium contributed to my goal of being a successful professional, future leader, and strong consultant.
Since the start of my collegiate career, I have experienced nothing but growth, and the symposium was another leap forward. It not only furthered my professional and personal development, but also inspired me to set the bar even higher and expand my career aspirations. I hope that future students are provided the same opportunity to attend this symposium and continue the winning precedent set by my colleagues.