Business
Serving a Greater Purpose The Sue Marcum Scholarship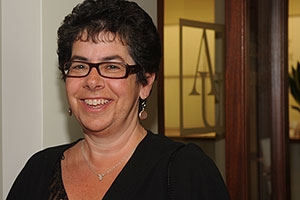 Members of the American University community gathered this past week at the annual Sue Marcum Scholarship luncheon, hosted by the Kogod accounting club. Professors, current students and alumni came together for the lunch in honor of the late Sue Marcum. The goal was to raise funds for the Sue Marcum scholarship.
Professor Marcum taught Accounting at the Kogod School of Business for 11 years until her untimely death in 2010. Marcum personally established the Sue Marcum Scholarship in 2006. This annual award supports an alumnus of American University who chooses to pursue a master of science in accounting (MSA) degree at Kogod.
"We see the luncheon as combining the best elements of Kogod, bringing members of the community together while serving a greater purpose of helping future students attend AU," said Heidi Friedrich, president of the Kogod Accounting Club.
Marcum, who lived to better her community, was remembered as always going above and beyond her duties as a teacher and a mentor, leaving an unforgettable impact on all of her students. While her students may have graduated, Marcum's memory still lives on through her scholarship.
"I owe my entire professional career to Prof. Marcum - literally, she is the reason why I'm an accountant today. She was my first accounting professor and her energetic attitude and enthusiasm made me fall in love with managerial accounting," wrote Polina Kremer, MSA '10, on Facebook.
The Kogod Accounting Club started planning the scholarship luncheon in Marcum's honor after her death. The Sue Marcum Day of Service, the club's main community service event, is also dedicated to raising funds in order to help the next generation of students receive a higher level of education from Kogod.
Marcum served as faculty adviser to the Kogod Accounting Club, and regularly pitched in with career development events and encouraged alumni to remain engaged.
To donate, please visit the Sue Marcum Scholarship Fund giving page. In the box labeled "Other," please type "Sue Marcum Endowed Scholarship Fund."