Business
Kogod Snapchat A New Way to Tag Your Experience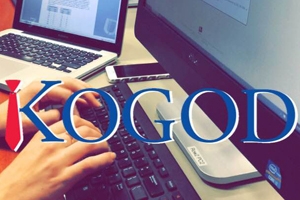 If you are an avid smartphone user, you probably already know about the popular video and picture-messaging app Snapchat. But what you might not know about is Kogod's new geofilter created by the Kogod Marketing Association (KMA).
Kogod reached out to KMA's marketing and advertising firm, 44Hundred, to team up and create the official Kogod geofilter. Now anywhere in the Kogod building students may use the Kogod filter to tag events, friends, presentations, and classes.
"In order to make the filter we reached out to a freelance graphic designer who is a student in SOC," said the director of KMA's 44hundred, Remy Aronson, BSBA '17. "44hundred worked as the liaison to understand what Kogod was looking for in terms of logo, font, theme, style and other restriction they had."
Geofilters are special location based overlays that allow users to show followers where a photo or video happened. With the limited amount of characters allowed on a Snapchat an image, geofilters provide another way for users to provide more context about an image or video. Throughout American's campus, geofilters are available for various academic and residential buildings.
"It's certainly an awesome and creative way to tag events. You would see these filters at certain points around campus, but it's nice to have a filter that's professional and a little fun for Kogod," said AJ Ledesma, BSBA '16.
Don't miss out on being part of the conversation. Use Kogod's new Snapchat geofileter to let everyone know where you are this finals season.