Business
Leverage Connections. Gain Employment. Marketing and Communications Day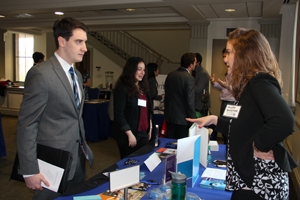 Kogod's urban location, alumni network and employer connections recently provided students looking for a job or internship even more advantages. Last Wednesday, 18 agencies and in-house companies set up camp in Kogod for a job fair to meet with students as part of the annual Marketing and Communications day.
Daylyn Weppner, SOC/BA '15, attended the fair this year. This year, Weppner found herself on the employer side. "It's so inspiring to come back to AU and see the unique passion students here have for the communications industry," said Weppner, an assistant account executive for Marina Maher Communications.
The job fair featured 13 familiar firms, including Hager Sharp and RP3 Agency, but also featured five new companies: Hilton Grand Vacations, Ketchum, APCO, WeddingWire and Fishbowl. Many students gravitated toward agency life, but others appreciated the varied mix of firms and in-house companies.
A networking reception followed the fair. Students took advantage of opportunities to speak one-on-one with the recruiters and also learn about the various career paths available to them.
"Marketing and Communications day was a great experience! There was a diverse group of companies and the employers were approachable, relatable and gave good information," said Taylor Kennedy, SOC/BA '16.
Next year's fair is already in the works. The event hosts, the Kogod Center for Career Development and the Kogod Marketing Association, evaluated student feedback and plan to incorporate a greater diversity of employers for the 2017 fair.