Business
Modern Day Heroes Kogod/Citigroup Anti Money Laundering Bootcamp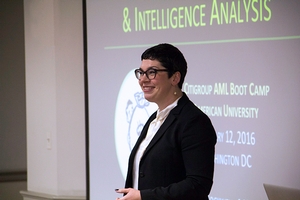 Accounting is more than just crunching numbers at tax time or keeping books for companies. Accountants can also be crime fighters spotting inconsistencies and holding organizations to a higher standard.
At Kogod, we are teaching the next generation of accountants. Last month, Kogod partnered with Citibank to host an anti-money laundering boot camp. Students had the unique opportunity to learn from guest lecturers and explore the realities of financial crime.
"I see money laundering as the root of all evil and by the end of the class tonight you'll understand that," said Leslie Rockwell, intelligence analyst, money laundering expert, and instructor for Citibank.
Students started off the three-week course by learning the basics of spotting money laundering. By the end, they were able to recognize and identify common money laundering scenarios. In fact, one of the final assignments involved students creating a money-laundering scheme that the class later picked apart.
"I found the hands-on experience to be incredibly engaging, and the analytical skills we learned built on the previous knowledge I've gained in AU's MSA program," said Andrew Lowery, BSBA '15, MSA '16.
Besides their new skills, the students were able to network with Citibank employees, which could lead to internship or job opportunities.
"I had been networking with some of the organizers of the boot camp prior to it," said Lowery, "so this was a good opportunity to strengthen those connections while also building new ones.