Business
Seizing the Opportunity Experiences with the Spring Washington Initiative Program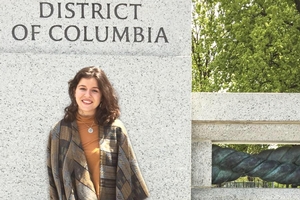 Preparing taxes was never high on AU student Rachel McKelvey's list of interests. But, that didn't stop her from becoming a tax-preparation volunteer with the Spring Washington Initiative program. "The community service aspect really drew me in. It provided an opportunity to interact with people in need in the community," says McKelvey.
This one-on-one human interaction was the most impactful part of the experience for her. An aspiring Human Resources Manager, McKelvey loves working with people and exploring different perspectives. "My favorite part of volunteering was the time I spent with clients after finishing their tax returns. Some people really opened up and shared their stories," she says. "I never would have connected with these people otherwise."
The Spring Washington Initiative program connected McKelvey with Community Tax Aid (CTA), a non-profit that provides free income tax preparation to low-income individuals. Since 2006, CTA has partnered with AU every Spring to train and mentor student volunteers. Participants work directly with one of CTA's program coordinators, who guide them through their volunteer experience.
One client in particular stuck with McKelvey. She worked closely with a homeless man, and learned he chose to live on the streets so he could send his income home to put his daughter through school. "A lot of these people are just trying to fight for survival. You realize because these people are low income, they get pushed to the side and disregarded. This program helps give them a voice," she says.
McKelvey underwent a thorough training process, completing three different Tax Wise software tutorials and a final test by the IRS. CTA'S program coordinator, Miren Beitia, was there every step of the way to make sure McKelvey felt supported. "While you're in training it's easy to get disheartened, but Miren really helped by making sure I felt confident in my skills. She's a great mentor, which made me even more excited to participate," McKelvey says.
After finishing training, McKelvey completed a total of seven, four-and-a-half hour shifts at the Martin Luther King Jr Memorial Library, where CTA volunteers are stationed. A tax reviewer provided additional on-site support, answering questions and helping manage volunteer-client interactions.
McKelvey admitted that despite the support she received, it wasn't always easy. Because each client had various sources of income and filing statuses, the forms she filed changed depending on the person. She learned to approach it as a logical and creative challenge. "It's like a puzzle. As soon as you assemble a few pieces, you can put it all together," she says. "And hopefully the big picture is a nice tax return at the end."
She also gained valuable stress-management skills. During consultations, people often grew anxious or angry if their tax return was lower than expected, presenting a communication challenge. "I had to learn how to dissociate myself from feeling nervous," she says. "You have to explain things in a rational, patient way."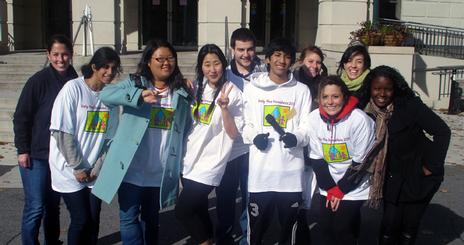 McKelvey is already planning to participate in the Initiative again next year. She encourages her Kogod peers to do the same—accounting, marketing, and administration majors alike. "By all means, go for it. It's for anyone who wants to experience new things," she says. "You will learn that you can push yourself to do things that you never thought you could. You just have to seize the opportunity."
Join McKelvey and other Spring Washington Initiative volunteers on Thursday, April 21 from 9-10a.m. in the Kogod Student Lounge for final reflections and a wrap-up of their experiences.
The Washington Initiative also offers service opportunities in the Fall. For students interested in joining the program in Fall 2016, submit this form or contact Kate Irving at irving@american.edu to learn more.