Business
Harvesting Innovation AU's Center for Innovation in the Capital Opened its doors on April 27, 2016
AU's new Center for Innovation in the Capital is an "innovation cultivator," as Director Melissa Bradley describes. The Center is committed to fostering an environment where new ideas and businesses can develop. "The big questions are, 'How do we support our students, staff, and faculty with a place to talk about innovation? And how do we bring our resources off-campus to strengthen the city as a whole?" says Bradley.
While the Center is a new establishment, innovation is by no means a new concept at AU. Bradley, who is also a Kogod alumna, was already running her own business as an AU student. She remembers that a culture of experimentation was a hallmark of her classes. "My business actually became a part of my coursework, and my peers helped me develop and run it," she says. "My professors were incredibly supportive as well, and helped me balance practice with academic theory." Bradley's entrepreneurial background played an integral part in the Center's development. When she began working at AU in July, she was tasked not only with forming its vision, but providing the mechanisms to do so. "It was a typical start-up," Bradley says. "There was no business plan or market analysis. We had to decide what we wanted this to look like."
She was also tasked with finding the Center's niche. With over 100 centers already on AU's campus and countless others in the DC area, Bradley had to figure out what set AU's Center apart.
Bradley believes what makes the Center distinctive is its interdisciplinary design. It partners with multiple AU schools, helping fuel its dynamic, synergy-based culture. "When we were designing its structure and programs, it was clear we really needed a place all of our ideas could converge," Bradley says.
Faculty and students from the College of Arts and Sciences, School of Communications, School of Public Affairs, and School of International Service contribute to the Center's programming through research, project-management, and networking. This fosters a broader approach to innovation, supporting students with aspirations outside traditional entrepreneurship.
"Not all of our students are going to start a business," says Bradley. "Maybe they'll create an important medical invention. Or, if they're in media, maybe they'll make the next blockbuster. We want to create a culture where people can experiment."
The Center will nurture this experimental environment through its programming and outreach. Business plan competitions, research partnerships, and an innovation speaker series are cornerstones of its programming. The Center will also host city solution "hackathons," where students collaborate to brainstorm how to address DC's biggest problems in education, health, and economic development.
Bradley feels strongly that the Center should be just as invested in the DC community as it is in AU. By leveraging the University's academic and human resources, it can improve the city by helping develop and support its businesses. "Institutions of our size are uniquely positioned to support a community's economic development," Bradley says. "This is our opportunity to own that privilege."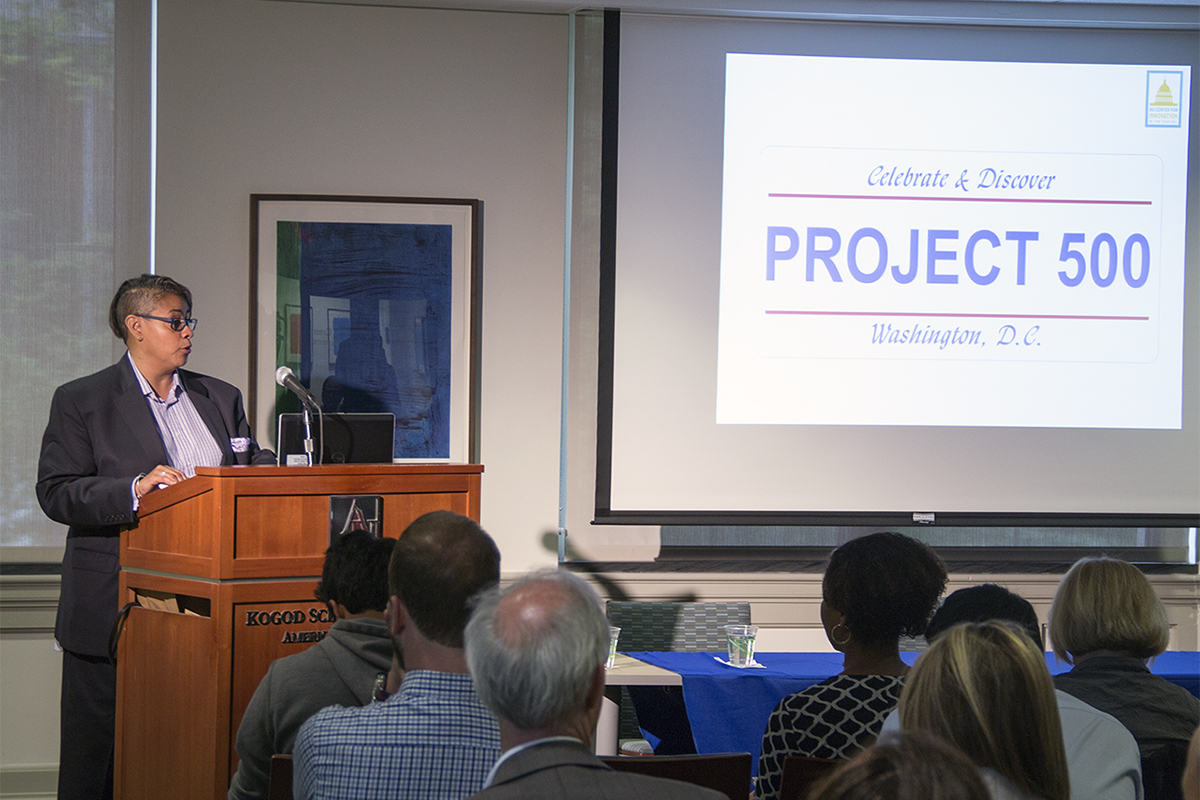 One way the Center will invest in DC's economic vitality is with Project 500. A partnership with the Deputy Mayor for Greater Economic Opportunity, the program will help 500 small business in DC grow by increasing their revenue, net income, and/or staff. Project 500 prioritizes organizations in Wards 7 and 8, giving precedence to those in the most disenfranchised areas.
"Academic institutions can have a reputation of being disconnected from their communities," says Bradley. "This gives us the opportunity to be authentic in our commitment to DC, and show that we care about developing businesses in all parts of the city."
Bradley is looking forward to many things with the new Innovation Center. She's thrilled to offer the resources to students to help develop their ideas into tangible products or services. She's ready to invest in the community and strengthen DC businesses and the economy. Most of all, though, she is simply excited "that we are here," Bradley says. "We now have a space for innovation on campus where people can connect and collaborate. And that's something we can all be really proud of."