Business
A Journey into Venture Capital Revitalizing the Venture Capital Club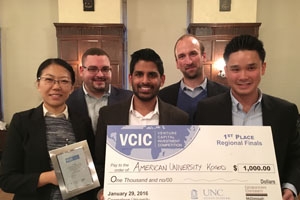 After lying dormant on The Kogod School of Business website for a year, the Kogod Private Equity and Venture Capital Club (KPEVCC) found new life this past year. A five-student graduate team revitalized the club and surprised supporters, competitors and judges on their journey to the Venture Capital Investment Competition (VCIC) Global Finals in Chapel Hill, North Carolina on April 7-9.
Starting at the micro level, last fall Kevin Hu, MBA '16, persuaded Executive in Residence Tommy White, department of management, to host a school wide VCIC last fall. White invited students from all academic backgrounds to compete. Hu and his teammates team won the school wide competition and made moves to attend the Washington, D.C. regional competition.
The regional VCIC challenged teams to study different business ventures and determine which is the best to invest in. Competitors spent a set diligence period studying each venture before a 15 minutes question and answer session with a professional entrepreneur. Final decisions were presented and defended to a panel of judges
The team's journey did not end in the district. After placing first in regionals, they geared up for the global finals. The team read everything they could get their hands on, worked weekly with Kogod alumni Don Nelson, BS Finance '90 over skype and met regularly with faculty. "There were a lot of terms we needed to get a better grasp on. In venture cap it's just an endless learning experience," said team member Mehdi Charfi, MBA '16.
Once the team arrived in North Carolina, courtesy of team member Steve Beam's mini van, they got to work assessing the five different companies. The global finals ran similarly to regionals, but adjusted for a longer due diligence period.
"This was much more exciting than and in depth than a case study. The VCIC is not just about making recommendations," said team member Kevin Hu, MBA '16. You have to make and defend your position to judges who are real investors. It's as real as you can get from a venture capital stand point."
The team's confidence rose throughout the competition, becoming evident during the question and answer session. After encountering rapid-fire questions from the judges, Charfi took control of the room. "He told the judges to relax and assured them that their questions would be answered," said Beam, MBA '16.
After placing fifth in the global finals, the team returned home with a new outlook on the club, and on what offers MBA students. "You can get your MBA, sit in classes and get good grades, or you can do something. This for me was a whole crash course on venture capitalism," said team member Nithin Srinagesh, MBA '16. "We're hoping this continues forward and becomes an institution within Kogod."