Business
Kogod Students Attend the VSCPA Leaders' Institute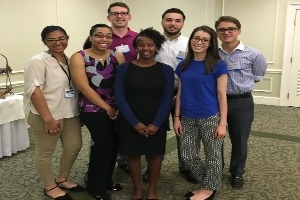 The weekend of June 17-18, a group of seven Kogod students attended the Virginia Society of Certified Public Accountants (VSCPA) Leaders' Institute. Held at the University of Richmond, the two-day institute is an all-expenses paid program dedicated to developing future leaders in the CPA profession. Students enjoyed access to potential employers, mentoring with young CPAs, and networking opportunities with other accounting students.
"Students always come back raving from this experience," says Casey Evans, Program Director of Kogod's Master of Science in Accounting program. "It exposes students to accounting and helps them network with seasoned professionals in the field."
Sessions included Networking 101, a CPA Exam lecture, and a leadership forum, among others. The conference concluded with a Q&A session with professional CPAs.
For Sarah Schrader, BS/MS Accounting '19, the most impactful part of the conference was the personal finance seminar. The session emphasized the importance of saving money early in life, and outlined how students could utilize financial vehicles such as Roth IRA Accounts and 401Ks. "I wish everyone my age could listen to this lecture, because budgeting is so important and easily overlooked. I've started using some of these options and already see a change in my spending behavior," Schrader says.
Attending the conference revitalized Schrader's commitment to the field, opening her mind to the plethora of career trajectories accounting offers. "I realized there is so much you can do with accounting," she says. "It's not just tax and audit – there's forensics, risk consulting and much more. Having an accounting degree is very valuable and in high demand in today's job market."
Evans plans to send an even larger group to the conference next year. To be eligible, students must be an undergraduate graduating in 2018 or 2019 with the intent to major in accounting. Other eligibility requirements include an academic recommendation, a minimum 3.0 GPA, and demonstrated leadership potential.
"I would definitely encourage everyone to go, especially if you feel unsure about what you are studying in business," Schrader says. "You will be surrounded by the best of the best, so take advantage of their stories and advice. The professionals I met really care about mentoring young students, and want to help in any way possible."
For more information on the VSCPA's Leaders' Institute and how to apply, visit http://www.vscpa.com