Business
Uncovering DC's Music Scene AU's Second District Records releases their first EP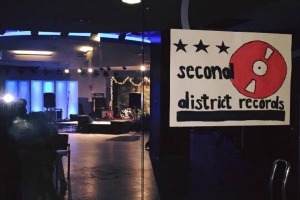 Second District Records, AU's independent record label, helps students build the future in music they desire. "Working on the label helps me execute my goals in a real-world setting while I am still in school," says Bisah Suh, the label's Vice President of Public Relations. "Second District Records pushes me to work hard to become the person I want."
Named to contrast DC's politically-charged "first" district, the "second" district aims to uncover and promote the city's vibrant local music scene. The label was founded on the spirit of exploration—of local DC artists, and of students' potential roles in the music industry.
Suh and her colleagues' efforts paid off this April with the release of District 16, their first professionally-produced album. Supported in part by a $500 grant from the Music and Entertainment Industry Educator's Association (MEIEA), District 16 features a mix of hip hop, jazz, and indie rock artists from across the DC region. "We produced this album on the same scale as a major independent record label," says Ron Jordan, BS Business and Entertainment '17 and incoming President of the label. "I'm really excited to see where this will go."
Suh, BA Public Relations '18, is also thrilled about the album's release. She hopes that its focus on local artists will draw attention to the District's bands and help the area's music scene flourish. "DC isn't known for its music, but that doesn't mean there isn't amazing artistry happening here," Suh says. "This album helps give these musicians a voice."
Second District Records evolved out of Kogod's Business and Entertainment (BAE) program, an undergraduate major designed by AU Executive-in-Residence John Simson. Originally begun as the Music Business Club, the group developed into the label upon Simson's insistence. One of his primary motivations for creating Second District was to give students hands-on experience in the music industry while they were still in school.
The label offers a plethora of opportunities for students across campus--business, law, and communications majors alike. Because the group is comprised of many different roles, it also requires a wide variety of expertise. "If you're a journalism major, we've got a blog. If you're an IT major, we need help with our databases. Study law? We need help with artist contracts," says Jordan. "We need people to do so many different things that there's really a place for everyone at Second District."
Jordan and his colleagues staffed the group from the ground up, charting out different roles and what they required. With Simson's assistance, they developed a team to support the label's needs, creating jobs such as Artists and Repertoire (A&R) Director, Public Relations Director, and Sound Engineers. Students were assigned to various roles based on their interests and skills, giving them the opportunity to apply their studies to a real-world scenario.
One of Second District's major strengths is that many staff members also work for music organizations off campus, such as DC's Rock n' Roll Hotel. Students leverage these connections to scout out local bands, helping recruit new artists to record with the label. "The music industry is all about relationships," Jordan says. "Our staffs'relationships outside of AU have helped us stay engaged with what new music is out there."
The label's success has not been without its sacrifices. Jordan admits there were many late nights in the studio, and challenges balancing his already packed schedule. "The most difficult part was the fact that this wasn't our full-time job," he says. "Many of us have internships and part-time jobs, on top of our classes."
Jordan and Suh agree the hard work was well-worth it, however. The group is fueled by strong professional and interpersonal bonds, creating a work environment that is supportive, open-minded, and fun. "It's like family," Suh says. "If I have to be in the studio from 8 p.m.-2 a.m. with Ron, I don't hate it, because I get to work with my friend. Since we all get along so well together, it's easy to get things done."
In the future, Second District Records aims to put AU on the map as a hub for producing music industry professionals. By building the university's reputation as a leading educator in the field, Second District Records hopes to advance the label and better publicize local DC artists.
At the end of the day, though, it's all about the music. The label was created to provide a safe space for DC artists to record—where bands can collaborate, brainstorm and produce music with no strings attached. "There's a lot of people in the industry that want to use artists for different things, but we're totally just here for the experience," says Suh. "We don't want anything from our artists except music."
For more information on the Record's new EP, and how to get involved, visit http://seconddistrictrecords.com