Business
A Life (and Classroom) Well-Traveled AU's Kogod School of Business Professor Al Mink teaches online during his Trans-American bicycle journey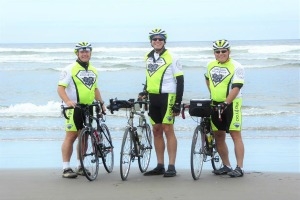 Al Mink lives--and teaches--outside of the box. His life is a wholehearted exploration of himself and the world—values that clearly guide his role as an AU professor. "For the most part, we're all on our own paths with our individual goals," Mink says. "It's important students learn to look outside of themselves so they see other possibilities for their lives."
This belief is the force driving Mink to continue teaching for Kogod's Business@American online MBA program while on his current adventure: a 4,229 mile bicycle trip across the United States. By integrating his journey into his class, he hopes to encourage students to think outside of the box, too. "You can live and work almost anywhere in the world," says Mink. "You just have to love what you do."
He admits teaching an online class while on the road presents its difficulties, but he's figured out a few work-arounds. Mink plans to leave early each morning to ensure he's available for class at night, and will hold regular office hours, just as he would on campus. He is even carrying a thumb drive programmed with a wireless hot-spot in case his internet is unstable.
Mink began the 84-day trip on August 1, 2016, joined by two fellow cycling-enthusiasts and his wife in a sports vehicle. The team will travel from Oregon to Virginia on the Bicentennial Trail, a historic biking route that winds along the Oregon Trail, through Yellowstone National Park, and past Colorado Springs, eventually ending in the colonial city of Yorktown, Virginia.
While Mink is excited for the trip itself, it holds a deeper purpose than just recreation. Mink and his colleagues are cycling cross-country to raise money for the Children's Science Center, a DC-area non-profit dedicated to STEM (science-technology-engineering-math) education. They aim to raise over $5,000 to help fund the organization's education and outreach programs.
"I am thrilled to support this cause," Mink says. "Our country's jobs are migrating to computers and technology, which means young people must really understand STEM. For me, promoting STEM is promoting the future of our country."
Teaching on-the-go means ease of communication is essential. Mink's online classroom was designed with this in mind, making it simple to connect with students while he's on the road. Dubbed "2KSB" by its creator 2U, Kogod's technology partner, the virtual classroom is "well-designed" and provides "lots of great opportunities for interaction," according to Mink.
One of 2KSB's savviest communication tools is its "break-out" room. Using this feature, Mink can organize students into "rooms" separate from the larger group, creating spaces for teamwork or smaller group discussions. He can also move from room-to-room to check on students and track their progress. "In a physical classroom, organizing groups into different spaces would take a lot of time, and I wouldn't be able to observe their interactions," he says. "2KSB has shown me there are things you can do in an online classroom better than in a physical one."
For Mink, the real selling point for teaching online is the focused, open environment it offers. He's found that virtual education demands attention and accountability from students in ways that are difficult to achieve in a traditional classroom. "It's very intense because there are no opportunities for students to distract themselves with other work or technology," Mink says. "Everyone is visually engaged with each other the entire time. It's a very personal experience."
He also advocates for online classes on the basis of developing essential technology skills. Although students are well-versed in social media platforms such as Facebook or Instagram, Mink has noticed they have little experience with business technology. Online classes expose students to tools companies use for communication and organization, helping them develop valuable skills to use outside of academia.
"Many things done in business today mirror the online classroom experience," say Mink. "If you're not taking online courses, then you're also not preparing yourself for the real world."
Mink is grateful for the opportunity to teach at Kogod, a position he could not have accepted if required to teach on-campus. His experience highlights another benefit of online education—securing faculty who would otherwise be unavailable. Virtual learning provides access to a greater pool of faculty, many of whom have rich and varied perspectives to offer students.
As Mink continues on his Trans-American journey, he is excited to explore new places and meet different people as he manages his class. The trip is projected to end mid-October, after which he will immerse himself in family, work and other priorities he sacrificed while on the trail.
He's looking forward to the day his online teaching experiences will come full-circle. As a global traveler, it's only a matter of time before his life path intersects with one of his online students. "One day, I know I'll end up in the same city as one of my students and we can host a class together in the same video frame," Mink says.
He hopes this future connection will further validate the power of online education, and inspire his class to take the road less traveled—literally. "It's a big world out there," says Mink. "I hope my adventures will motivate students to seek out a few of their own."
Interested in sponsoring Mink and his team? Learn more at https://www.afceanova.org/transamerica-cycle-for-STEM