Business
Making an Impact My experiences as a PMBA student at Kogod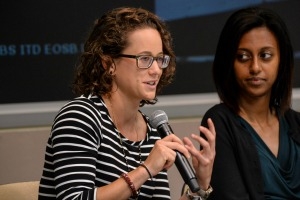 Edward O. Wilson, Pulitzer prize-winning author and frequent visitor to Rock Creek Park, said, "The world henceforth will be run by synthesizers: people able to put together the right information at the right time, think critically about it, and make important choices wisely."


The Kogod School of Business has helped me become one of those synthesizers.
I love learning, solving problems, and improving things; I've become known for it in my current job at the U.S. Department of Agriculture. It is my passion for making things better that motivated me to enroll in the part-time Professional MBA (PMBA) Program at Kogod, a program I knew would give me the knowledge and leadership skills I needed to continue making impactful change.
A Strong and Supportive Community
There are a lot of excellent MBA programs in the D.C. area., but the first time I walked into Kogod I immediately felt at home. Everyone I met was warm and welcoming; rather than approaching me as another prospective student, the faculty and staff treated me like an individual, asking me specific questions about my work, hobbies, and why I wanted to go back to school.
The best part of the program is the cohort. I wouldn't know what to do without my study group; we not only work to complete projects, but we celebrate our victories and commiserate on our failures together. While the constant fatigue is most certainly my least favorite part of the grad school experience, there's no group of people I'd rather be cripplingly tired with.
Rich Extracurricular Opportunities
The best advice I can give to new or prospective PMBA students is get as involved as you can. Kogod offers so many unbelievable opportunities; students can attend guest speaker series, join different clubs, participate in case competitions, or become a member of Beta Gamma Sigma (the business honor society), to name a few.
Don't just do business school halfway. Wring as much as you can out of the experience. And absolutely get to know your professors—they are fascinating humans.
A Structured and Relevant Program
There isn't another MBA program in D.C. that offers students the same benefits and advantages. Tuition, fees, and an international trip are covered with seven all-inclusive payments; electronic texts are accessible from the iPad you get on your first day; parking during the evening is free; and Kogod even feeds you on class nights. It's obvious that a tremendous amount of thought went into its design.
Beyond the program's logistics, the business acumen I have gained—and will continue to gain—helps me every day in my job.
My Managerial Accounting class helped me develop the financial skills I needed to re-design one of our program's budgets. If my proposal is accepted, we could save tens of thousands of dollars. Similarly, the negotiations course I took strengthened my communication skills, which are essential when coordinating with agencies in different countries. Becoming a better negotiator means I can manage projects, solve problems, and resolve conflicts more effectively, which ensures the success of our overall programming.
As I look forward to beginning the Fall semester, I'm excited to continue learning and growing through the program. Kogod's PMBA program has already helped me develop valuable business skills, recognize opportunities, and, in my own small way, make this world a better place.
I will always look for ways to improve and make a positive impact. I hope to become someone that not only exceeds expectations, but inspires others to develop themselves, take chances, and never stop asking questions.
Kogod's Professional MBA Program is designed to accommodate the working professional, with classes held only one evening per week year-round. For more information on the PMBA and how to apply, visit http://www.american.edu/kogod/mba/PT-MBA-BADM.cfm