Business
Law, Health, & Business - Oh My! Student Profile: Ebunola Aniyikaiye, JD/MBA '17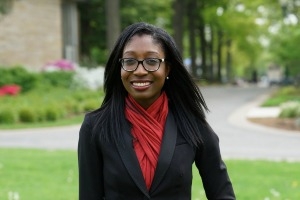 A first generation Nigerian American, Ebunola Aniyikaiye, JD/MBA '17, grew up in Montgomery County, Maryland, not far from American University. Just because the school was close to home, though, didn't mean she wasn't able to spread her wings.
In order to grow in her career in the health care industry, Aniyikaiye knew she needed a good foundation in law and business. The skilled professors, practical "Health Law" classes, and hands-on experience drew Aniyikaiye to the JD/MBA program at Kogod School of Business and Washington College of Law.
The JD/MBA offered her the chance to gain in-depth experience in both fields through its interdisciplinary design. The degree features both an MBA and a law degree which students earn simultaneously over four years.
One of her favorite experiences was the program's Global Consulting Practicum. The class and trip are a core part of the Full-time MBA degree's second year curriculum. Teams of students are challenged to develop a project for an international client and travel to its home country for a one-on-one meeting. This year, students traveled to the United Arab Emirates, marking the program's first trip to the Middle East.
Aniyikaiye suggests other students take advantage of all available opportunities as she has during her JD/MBA studies. "Try something new!" she says. "You never know what you might excel in."
Read more about Aniyikaiye's experience below.
Kogod School of Business: What motivated you to pursue the joint JD/MBA program?
Ebunola Aniyikaiye: The passage of the Affordable Care Act (ACA) made it imperative, in my opinion, to have legal and business knowledge if I wanted to work in the health care industry.
KSB: Why did you choose Washington College of Law and Kogod specifically for this program?
EA: WCL was the only school that had practical health law classes. I already had a policy background, so I knew I didn't want to take health policy classes like some other DC law schools offered. Also, Kogod had a good business school, and I knew it had a strong consulting track record in the area.
KSB: Our JD/MBA students come from a wide range of academic and professional backgrounds. How does your interest in law and business connect to your previous experience?
EA: I worked as a health policy associate, and I knew that the implementation of the ACA would drastically change the way the US health industry works. Having a policy background makes it easier to explain the intent of certain polices to clients.
KSB: Is there an experience you've had during your time at AU that has been particularly impactful? Why?
EA: The Annual Kogod Case Competition was a great experience. I think competitive environments foster quick thinking and encourage teamwork. I think those are vital skills to have in business. My team also came in first, which was great!
KSB: Has a particular class or professor been most valuable to you?
EA: Professor Ayman Omar is hands down one of the best professors I have had at Kogod. His class was tough, but I learned so much about working in a global economy.
KSB: What are your hopes and ambitions for the future?
EA: I want to be a health law attorney and a strategic advisor who owns my own firm that provides both services.
KSB: What advice would you give a prospective student considering applying?
EA: Have an idea of what you want to do, and go to the school that you think would best fit. The professors here are great and are willing to help you accomplish your goals.