Business
Managing Through the Global Financial Crisis and Oil Price Shock: Qatar's Experience A visit from The Governor of the Central Bank of the State of Qatar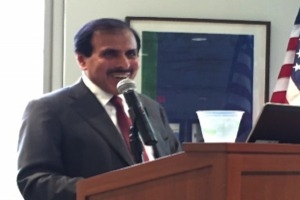 H.E. Sheikh Abdulla Saoud Al-Thani, The Governor of the Central Bank of the State of Qatar, was a guest speaker at Kogod on Friday, October 7, 2016. He was in Washington, DC, to participate in the Annual Meetings of the International Monetary Fund and the World Bank, and to receive the prize of the Central Bank Governor of the Year for MENA region. The audience was comprised American University students, faculty and staff.
Kogod's Senior Associate Dean, Dr. Ajay Adhikari, welcomed His Excellency the Governor and his esteemed delegation to the school. "We were very excited to host the event," Adhikari says. "Many of our current and past students are from the State of Qatar, and their enrollment is increasing."
The Governor's presentation "Managing Through the Global Financial Crisis and Oil Price Shock: Qatar's Experience" focused on Qatar's current status in the world market. He noted that Qatar ranks 14th in the global competitiveness index, and 1st in the GCC countries.
His excellency explained how Qatar addressed risks resulting from the 2008 global financial crisis, and how the country's monetary policy supported its economic and financial conditions. He discussed the current status of oil prices, and stressed financial stability as a major objective of the Central Bank. While the oil price shock adversely impacted the country's performance in 2015, its growth rate was still 3.6% compared to the 4.0% in 2014.
He stressed that Qatar's financial sector remained resilient, despite the global financial crisis and recent oil price shock. He assured that banks remain well-capitalized, and that the country's stable performance is due to the government's economic diversification strategy and emphasis on financial stability. Qatar will continue investing in its social and physical infrastructure, and strengthening its financial market.
The presentation concluded with a question and answer session and reception. "I very much enjoyed exchanging ideas with the faculty and students at Kogod," Governor H.E. says. "I wish Kogod School of Business all success in its future plans."