Business
A Tailor-made Experience in Accounting Casey Evans talks about what makes Kogod's Master of Science in Accounting special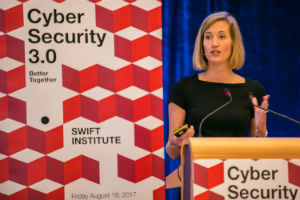 Casey Evans has high hopes for Kogod's Master of Science in Accounting (MSA) program .
As MSA Director, her goal is to prepare students for the CPA (Certified Public Accountant) Exam , and give them opportunities to advance their future careers in accounting.
"At orientation, I'm already talking about the job they are going to have when they graduate, and the exams they need to pass. That is really our focus: to provide a strong foundation so they can have a solid career in accounting, whatever that may be."
The program boasts a diverse population. Thirty percent are international, and come from backgrounds such as accounting, business, law, and psychology. Evans praises the Masters in Accounting program at Kogod as being "tailor-made" to fit students' individual needs, saying that "depending on what they've done previously, and looking at what they want to do in the future, we help them design a master's that's a good fit for them."
Read more about why Evans thinks Kogod's MSA program is valuable to any student seeking to join the accounting world.
Kogod School of Business: What makes this program important?
Casey Evans: The pathway to the CPA. With a profession like accounting, the CPA is the key to a long and successful career. The courses we offer prepare our students for the exam, but also meet the state board requirements that are required for students to become licensed.
KSB: In what ways is the program helpful students taking for the CPAs?
CE: You can take the CPA exam with one state. So, each state has its own educational requirements, but for the most part, most states require certain classes for you to sit for the exam. Those courses are all contained in the core accounting courses that we have in the master's program.
What we also have are some great electives that in some cases are required by states, in others they are just used toward credit, toward getting you ready for the exam and meeting the educational requirements they have. Our electives help students dive into topics that we know are heavily tested on the exam, or spend their time thinking about the area of the profession they want to get into. We've got classes in advanced auditing, we've got classes in advanced tax work, forensic accounting, so we have classes that focus on a particular niche of the profession that students will likely get into. They can start getting a leg up early by taking a class in those topics.
KSB: Is there one thing that really sets the program apart?
CE: What makes our program unique is that you do not have to have any accounting before you come get your Masters in Accounting, and the way that we design the program to accommodate that. You can study another discipline and you can use the Masters in Accounting program as a way to change your career. The fact that we are able to accompany so many different students, makes it really unique. Not all programs do that.
KSB: Why should a student choose this program?
CE: I think we not only have the path to the CPA, but we also have some really great qualities about Kogod that make our students love it. It's a very engaging environment. We have small classes, so you get a lot of time with your faculty, you get to know your colleagues pretty well. So, it creates a nice learning environment for our students.
We are in a great location. We really try to take advantage of that location. Our students normally have one to two internships while they are with us in the graduate program. We've got a great resource with Kogod Center for Career Development here to help our students find those internships throughout their program, and those jobs when they graduate.
Another really good plus to the program - individualized attention. The fact that we work with each student and put together a different schedule depending on their needs is something that the students really appreciate about the program. I always think that individual attention, coupled with our location creates a really nice environment.
Most of our students go to the Big Four accounting firms, some go to smaller accounting firms working in public accounting, but we also have students that are going into forensic accounting, into tax, into consulting; accounting allows you to do many things. We are fortunate to see that our students have a variety of career options when they graduate.
KSB: What impact do you think the program will have on your students?
CE: I hope that they have a great wonderful time while they're here. When they look back, they think 'this really helped me lay the foundation and prepare for a very successful career'. I hope they feel valued while they are here. That they are a special individual to us and that we really take and make a specific effort to make sure that they are successful. We have so many resources here that our students who use them really are happy with their experience, so that's what I'm really hoping that they get from it.
Learn more about our Master of Science in Accounting program.