Business
AU's Creative Caucus Spurs Collaboration Kogod Professor John Simson founds interdisciplinary faculty organization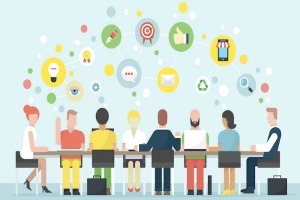 AU Professor John Simson believes in the power of synergy. He's experienced it first-hand building Kogod's Business and Entertainment (BAE) program.
Simson, who started the undergraduate program in 2013, wanted to give his students the richest experience possible. "When I first got to campus, it struck me how many different schools had classes in the creative arts," Simson says. "I wanted to collaborate to leverage everyone's expertise."
His vision of creative collaboration inspired him to found AU's Creative Caucus. The caucus –an interdisciplinary artistic forum of sorts – brings faculty from different schools together to share ideas from their arts-focused classes. The group provides a space to network, discuss class plans, share guest speakers and brainstorm joint projects.
"More than a dozen arts administration, audio-technology, communications, and business professors attended our first meeting in September," Simson says emphatically. "We already have some creative ideas about how to work together."
Nancy Snider, director of AU's music program and one of the inaugural members, is excited about the caucus' potential. "Now, more than ever, we need the power of art," she says. "The Creative Caucus is one of many growing initiatives building strength in a common purpose in our community. This is becoming more and more important in today's world, and I am grateful to John for leading the way."
On February 1, the caucus will hold their first major event: a screening of Composed, a documentary about performance anxiety. Simson pitched the idea after the fall gathering via e-mail. "It was the perfect collaborative opportunity. While many performing artists have experienced stage fright or anxiety, it's also important for my students to understand it because it affects the business side, too."
Snider was sold. After a planning session with Simson, the two agreed to screen the film to a class of both BAE and music students. A question and answer session will follow, offering a chance for interdisciplinary discussion and debate.
"The screening event shows how important the creative caucus is," Simson says. "If we hadn't joined forces, our students wouldn't have this chance."
He hopes the caucus will inspire faculty coordinate joint classes on a regular basis. By leveraging each other's "intellectual capital," professors deepen both their teaching, and their students' education. "I recently met a Grammy-nominated composer who wanted to speak in my class, but the timing didn't work out. This could be perfect for someone else," Simson says. "We need to make sure we're not missing out on opportunities like this."
Simson also hopes the caucus will help the BAE program continue to grow. "We've got a pretty solid core curriculum, so now it's just a matter of creating additional opportunities for enrichment," he explains. "And anytime you work with different departments across campus, it creates a better learning experience."
Moving forward, Simson plans to formalize the caucus by instituting quarterly meetings and hiring a director to manage the organization. He'd like to establish a regular event series, and collaborate with Washington College of Law's entertainment law students. "I've always loved community-based learning initiatives—especially ones that support artists," Simson says.
He even has ambitions to organize an annual conference centered around an artistic theme. Hosting a yearly gathering would further connect caucus faculty and encourage collaboration on campus. It would also provide the chance to engage DC artists, creating valuable networking opportunities.
At its core, the Caucus is all about the students. Creating synergy on campus offers students valuable enrichment experiences—ones that Simson believes are both formative and powerful. "This has the potential to really deepen our students' experience, inside and outside the classroom," he says. "I can't wait to see where this goes."
Interested in learning more about the Creative Caucus? Contact John Simson at simson@american.edu.
For more information about the Business and Entertainment program, visit http://www.american.edu/kogod/undergraduate/BS-BAE.cfm