Business
Agile Process Management: It's Not Just Work. It's a Lifestyle. Lessons from Business leadership Luncheon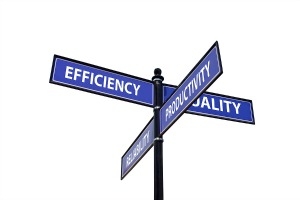 On March 1, I walked into a Business Leadership Luncheon, Kogod's Full-time MBA program's speaker series, and was greeted by a gregarious presenter who asked a simple question: "What is 'Agile?'" After briefly explaining Agile Process Management, Leila Rao, an agile coach from NTT Data, walked us through the process. She used two of the most interactive tools in her arsenal: a box of thirty domino pieces and a timer.
For 15 minutes, we split into groups of four and timed how long it took for each person to flip over thirty domino pieces. Each round was followed by a period of group discussion and class reflection.
While we worked together, Rao showed us the integrative—as well as interactive—nature of Agile Process Management. Agile requires teams to collaborate by performing an iterative process (feedback loops). Its fundamental principles naturally complement the human learning process—one characterized by the practice of doing, evaluating, adjusting and repeating.
Rao also uses a process called "design thinking," which helps teams implement a project cross-departmentally. Design thinking improves their efficiency and facilitates a healthy group dynamic based on transparency and collaboration.
She concluded the presentation by sharing ways Agile can be applied to our daily lives. For example, by being transparent with her family, friends and clients about her daily availability, she is able to establish a better work-life balance. She also found that setting times to reflect on projects completed was important in producing better quality and improving workflow.
Leila Rao made Agile not only palatable, but relatable. I left the luncheon with a new level of confidence in the process, and a new motivation to apply it to my work and life.
Interested in attending a Business Leadership Luncheon? Learn more about the series, and our Full-time MBA program, here.