Business
KCGC Co-hosts Solving Cyber Risk Seminar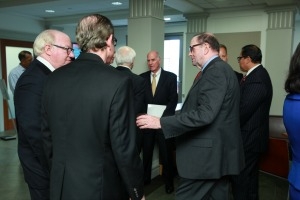 On Tuesday, February 28, 2017, the Kogod Cybersecurity Governance Center (KCGC), along with AIG and the Axio Group, co-hosted a seminar titled, "Solving Cyber Risk." The half-day workshop brought together over 75 corporate risk managers, insurance brokers and cybersecurity professionals for several hours of presentations, discussion and networking.
KCGC Executive Director Bill DeLone opened the program by noting the increasing variety and severity of cybersecurity threats and the role of both governance and insurance as solutions for mitigating this risk. An opening presentation on cyber risk and solutions by Axio's David White and Brendan Fitzpatrick and a panel moderated by Professor DeLone formed the core of the workshop. Both segments focused on several key themes, including: evaluating cyber risk exposure; the maturity of cyber defense and response; and the financial viability of recovering from an event.
"These are crucial areas to address because cybersecurity breaches can cost companies millions of dollars in response and recovery," says Dr. DeLone. "They can also cause reputational damage and interrupt business operations."
The panel discussion, including perspectives from Dr. Richard Schroth, KCGC; Bryan Tierney, AIG; and David White, Axio, addressed key questions for many organizations considering how to best manage cyber risk, including through investment in cyber insurance: Who is or should be responsible for purchasing cybersecurity insurance, and how can cybersecurity professionals work with the insurance industry to improve the market?
The biggest takeaway? Panelists agreed that organizations need more than one set of eyes as well as a structured cybersecurity program with a clear strategy – 'faith-based' cybersecurity will not suffice. The day also included a lunch and additional opportunities for attendees to meet, discuss workshop concepts and exchange information for continued conversation.
Professor DeLone hopes the seminar was both educational and motivating for attendees. "I hope the day enlightened the participants on the magnitude of today's cybersecurity threats, including potential damage to physical infrastructure, and helped them feel empowered to develop viable solutions."
Moving forward, Dr. DeLone and his colleagues at the KCGC will continue promoting cybersecurity leadership through research and collaboration. February's workshop is one of the Center's ongoing series of cross-industry cybersecurity governance events.
Learn more about the Kogod Cybersecurity Governance Center, including upcoming events, here. Contact the KCGC team directly at cybergov@american.edu.