Business
Playing the Field: Sports is a Business Dawn Ridley discusses her career and her Kogod class, Intro to Sports Management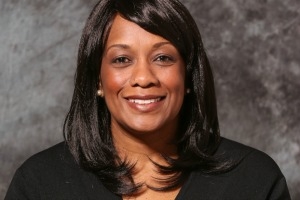 The faculty at Kogod are not just passionate professors. They are also career professionals who are dedicated to working in their prospective fields. Dawn Ridley is such a professor. Ridley has dedicated her career to the sports industry, and she has used her business background to strengthen sports teams and agencies for years. From a college intern, to a manager and now a professor, Ridley's multi-faceted experience in the industry makes her an invaluable professor at Kogod.
Read more of our conversation with Ridley below:
Kogod School of Business: Can you talk about your background, and what has molded you and your career?
Dawn Ridley: I started my career as an intern with the Atlanta Braves. After graduation, I worked in a management job but my old boss at the Braves found me and offered me a full time position. I then got a job offer in Washington, D.C., as the V.P. of trading cards and collectibles for the NFL Players Association. I moved here August of 1995, to run trade for the NFL PA, the labor organization for all NFL players. I was there for a total of 12 years. Now, I am the strategy and planning director for AARP.
KSB: Why is Sports Management important as a field?
DR: People pursue sports management because they love sports, but it's also a business, so it's really important that they understand strategy; planning; finance; budgeting; and marketing. We need to train professionals to be effective business people, identify strategic business goals and effectively measure success.
KSB: You designed an Intro to Sports Management class for Kogod. Could you talk about this process and the structure of the course?
DR: In this course, I provide real world examples for the students. There are a lot of hands-on activities that take us beyond traditional textbook learning. I get speakers from the NFL Players Association, major leagues and agents with 20+ years of experience.
KSB: Could you talk about some of the experiential learning happening in class?
DR: We had someone from NFL Players Association who was very focused on new product development. So, we had the students focus on developing new products using intellectual properties that aligned with the guest speaker and the topics in class. The students are able to connect the dots and get instant feedback from professionals in the field. It's always fantastic to meet someone whose day-to-day job is focused on a particular business, and get the students' ideas developed.
KSB: Is there something about the school that sets it apart from other institutions that you have worked with?
DR: I think Kogod understands how to connect with the local business community. It's a specific, intentional commitment. My approach is always applied knowledge, in addition to learning. I think it's easy to connect those dots here at AU.
KSB: What impact do you hope to have on your students?
DR: I hope they understand that sports is a complex and interesting business. I hope they also feel like it's accessible, and know that they can really pursue their interests.
I encourage students to take advantage of everything this university and this area has to offer. Nothing makes me happier than seeing my students working in their desired career paths. It makes me really proud.
Check out AU's Undergraduate Business Programs and Graduate Programs.