Business
Going Your Own Way Devon Wallick, MSA '17, shares how Kogod helped him find his own path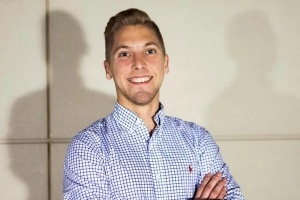 If you asked Devon Wallick, MSA '17, what the future holds for him, he'd tell you, "I have no idea. But I'm excited to figure it out." For Wallick, a wide-open future means opportunity. It's the chance to forge his own path-a notion that was nurtured throughout his time at Kogod.
"I felt encouraged to do what made me happy," Wallick says. "My professors always focused on my individual path, rather than what I was 'supposed' to do."
This individualized approach is what sets Kogod apart, according to Wallick. The school is committed to helping each student find their own way-whether it's deciding on an elective course, or charting out career goals.
Kogod's supportive, team-based environment only enhances this personal attention. "It's different than a straight-up, systematic business school. There's not a competitive feeling-it's more about working towards a goal together," Wallick says.
Wallick's Kogod education has served him well. He's graduating at the top of his class, with numerous internships and jobs under his belt. Wallick has one last challenge to conquer before leaving Kogod, though: delivering the graduate commencement speech.
On Sunday, May 14, 2017, he'll address students, faculty, family and friends at Kogod's graduation ceremony in Bender Arena. He'll share experiences from his time at AU, and his perspective on what success really means.
 
Wallick believes it's defined not by money or prestige, but by one's own happiness. …And the secret to happiness? Finding-and following-one's passions.
"A lot of people don't pursue their dreams because they're afraid of making mistakes," he says. "Don't be scared to do what makes you happy. You'll be much more successful this way."
Wallick hopes that by listening to his speech, people will also realize it's okay if their future is unclear. It doesn't mean they're lost-just that they still have options to explore. "We're taught to challenge ourselves professionally, but not personally. It's important to examine who you are and what you want, too," he says.
The focus on personal discovery was one of his favorite things about studying at Kogod. The school gave him the resources he needed-notably his professors-to find what made him happiest.
Caroline Bruckner, Executive-in-Residence at Kogod, was especially encouraging. "When I studied with her, I was really conflicted about my future in accounting. She sat down with me and helped me figure out my plan for the rest of graduate school, and beyond," Wallick says.
She showed an investment in his academic performance, as well. Wallick admits he struggled in her class, but she helped him with the course material every step of the way. "I didn't do well on the midterm, and she pulled me aside to ask if there was anything she could do to help," he says. "After the class was over, she even e-mailed me to say how proud she was of the work I'd done."
What defined Wallick's experience at Kogod wasn't his coursework, though. It was his work outside of the classroom.
Wallick also spent his time at AU working as the MSA program's graduate assistant, where he helped plan events and served as liaison between the program director and students. The job fulfilled a declaration he made when first starting the program: to be fully invested in his academic community.
"I felt stagnant in undergrad, and didn't want to walk away from AU with any regrets," he says. "This job was my way of holding true to this."
Working as a grad assistant was also a "validating experience. It gave me the chance to prove I was qualified and capable. It was my proudest accomplishment at Kogod," he says.
Wallick will hit the ground running after graduation. He's planning to earn his CPA over the Summer, and will start working at DeLoitte in the Fall. Other than that, though, "I'm embracing the unknown," he says. "I don't have a five year plan, and that's okay."
He may specialize in financial services or startups-maybe even hospitality. Perhaps he'll transition into a teaching career, where he can nurture his love for mentorship. Whatever path he chooses, though, he's armed and ready for the adventure. "It's okay to go in a direction you've never been before," he says. "It's one of the many things I learned at Kogod."
Interested in Kogod's MS Accounting program? Learn more here!