Business
AUCI Selected as a Top 20 Entrepreneurship Center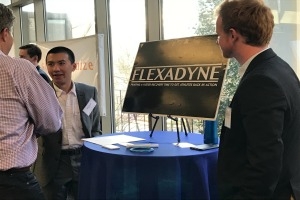 This Spring, American University's Center for Innovation (AUCI) was selected by the Association to Advance Collegiate Schools of Business (AACSB) as one of the world's top twenty entrepreneurship centers. AACSB's Entrepreneurship Spotlight Challenge Honoree list highlights the top twenty entrepreneurship centers and the top fifteen entrepreneurship programs worldwide. AUCI was selected for its leadership in starting innovative businesses, and its commitment to experiential education.
"We are thrilled to receive this world-class designation from the AACSB," says Dr. Siri Terjesen, Director of the AU Center for Innovation. "It recognizes AUCI's many experiential learning opportunities and our dedication to advancing entrepreneurship on and off campus."
Over one hundred and thirty universities applied for the Spotlight Challenge. AU was selected alongside institutions such as Georgetown University, Babson College, University of North Carolina at Chapel Hill, University of Virginia, and Purdue University, to name a few.
A World Class Learning Laboratory
The AU Center for Innovation aims to help American University students understand real-world businesses by providing hands-on educational opportunities. The Center offers an undergraduate entrepreneurship minor and concentration, and a graduate level specialization and certificate; conducts cutting-edge entrepreneurship research; and supports a myriad of other activities, including pitch competitions, workshops and networking events.
Especially notable is the AUCI's incubator, which provides selected student groups seed funding for their own start-up ventures. The incubator also supports ventures with physical space, networking opportunities and mentors to guide them through the early stages of business development.
"The incubator is where students learn how much experience matters in innovation. It's also the only laboratory on campus where a biology student, a computer science student and an accounting student synthesize different academic perspectives to develop a shared idea," says Bill Bellows and Tommy White, co-directors of the incubator.
AUCI employs faculty and students across campus, creating an interdisciplinary environment rich in intellectual exchange. Dr. Kathryn Walters-Conte, Director of AU's Master's in Biotechnology program and staff member at AUCI, believes this is the key to success for her students. "The AUCI offers undergraduate and graduate science students the opportunity to immerse themselves in entrepreneurship training, while still acquiring cutting edge scientific knowledge," she says. "Students working with AUCI leave poised to continue their commercial ventures, and have the training to take on executive roles in established technology companies."
That makes AU's Center for Innovation a place that not only educates, but prepares. AUCI students graduate from AU with the intellectual and creative tools they need to start their own businesses—and the ambition to succeed in today's marketplace.
A Positive Impact
Terjesen is excited AUCI's work has been recognized by such a respected institution. She hopes the AACSB designation helps the Center by elevating its reputation globally, and on AU's campus. "I want the AU community to continue to stay engaged with the Center. We're planning to offer more courses in the coming years, so hopefully more and more people will get involved."
The Center will open its new facility this Fall, providing additional space for its expanding programming. The roughly 2,500 square foot facility will include a pitch room, incubator room, technology hub, four faculty offices, conference room, and a small library and kitchen area.

Earning a spot on the Entrepreneurship Spotlight Challenge Honoree list is validation for AUCI's continued growth and success. As Terjesen shared: "We are excited to move the AUCI into its new building, and to continue fostering an entrepreneurial mindset across campus. Our hope is that the next generation of AU entrepreneurs will start at AUCI."
Learn more about the AU Center for Innovation here.
Read about the AACSB, and the Entrepreneurship Spotlight Challenge Honorees, here.