Business
MST Program Defined by Critical Thinking "It's the thought process you develop that's most useful," says Brent Sabot, MST '17. "The program has shaped the way I think about the tax profession"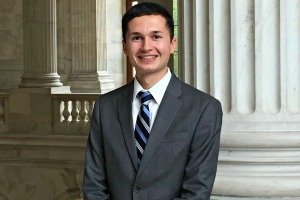 Kogod's MS Taxation program was Brent Sabot's second choice…until he took a couple of tax classes. Sabot, initially an MS Accounting student, knew he wanted to switch programs as soon as he finished his first Kogod taxation course. "Tax policy, the tax code, its connection to the business world—all of it fascinated me," he says. "I was hooked."
Sabot enrolled in the MST program and hasn't looked back since. He relishes the experiences he's had at Kogod—many of which are specific to Washington, DC.
The school's DC location is a key reason the MST is so strong, Sabot says. Its home in the nation's capital affords experiences he couldn't get elsewhere, like field trips to the US Treasury and meetings with high profile tax judges. "I can't imagine studying taxation in any other city," he says. "You've got to be in Washington to pursue this field."
The most impactful part of the program for Sabot, however, is working with Kogod's Tax Policy Center.
Sabot, a research assistant at the Center, supports staff through research and analysis of tax legislation—tasks that bridge classroom theory to real-world practice. "You don't get this type of learning experience just studying for an exam," he says.
This past semester, Sabot was also a technical contributor to Billion Dollar Blind Spot, the Tax Policy Center's latest research publication. He says that by working on the report, he learned the "full research process:" addressing a question, identifying sources and speaking with subject matter experts.
Caroline Bruckner, the Tax Policy Center's managing director, sees Sabot more as a colleague than as a research assistant. "He's been an invaluable member of the team. I really appreciate Kogod's MST program because it has developed his research skills so thoroughly," she says. The best part of Kogod's MST, though? It teaches students to apply what they learn to all walks of life.
Sabot says Kogod's MST taught him how to think. The knowledge he gained is valuable, but what he'll ultimately leave with is a deeply analytical mindset. "It's the thought process you develop that's most useful," he says. "The program teaches you critical thinking."
One only has to look at the MST faculty's approach to understand how. Sabot recalls how Don Williamson, one of the program's core faculty members, challenged him to analyze The Godfather from the perspective of a tax practitioner.
"You know they have their olive oil business, but you don't know where they're buying it from," explains Sabot. "Are they traveling overseas for it? Getting it in their home country? There's a lot of tax-related questions here."
He says the class, and the program as a whole, encouraged him to see taxation through a broader lens. Taxation affects everything, says Sabot, which he didn't fully realize prior to studying at Kogod. "It touches on every aspect of our daily lives," he says. "And if you want to be an informed business professional, you have to know the tax consequences of your decisions."
Sabot is set to graduate this December, after which he'll work as a tax associate at RSM, a national audit, tax and consulting firm. He's ready to start his career, but is glad he's got one last semester ahead of him. "I've really appreciated my time here," he says.
Most of all, he's grateful for the broader perspective the program has given him. Sabot will graduate equipped with highly developed critical thinking skills, and a deep understanding of the fields' connection to the business world.
He credits Kogod with giving him the foundation he needs for success. "The program has shaped the way I think about the tax profession," he says. "I'm starting my career with a lot of knowledge and confidence."
Learn more about Kogod's MS in Taxation program.