Business
Glass Half Full No sour grapes from winemaker and Kogod MBA alum Francisco Roig as he uses the break in his supply chain to make "magic."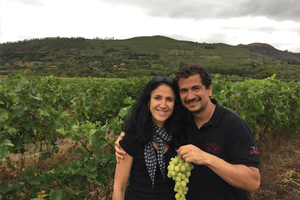 Many states, cities, districts, and counties within the US are under shelter-in-place orders due to the novel coronavirus pandemic.
While restaurants are permitted to remain open with takeout or delivery services only, business is slow. America's foodservice industry employs nearly 16 million trained and skilled workers, and many of these employees are facing unemployment because they're no longer needed.
Foodservice isn't the only industry that is being impacted—hospitality, transportation, entertainment, and many others have also been brought to a halt due to travel restrictions, canceled music festivals, and overall safety advisories.
Kogod MBA alum Francisco Roig, co-owner of an organic boutique winery in Bolivia, is already feeling the economic strain from the pandemic. "Sales may have temporarily spiked, but business as usual is completely distorted. One wine store, which was awarded the top wine store on the East Coast last year, now is just selling on the curb during limited hours," says Roig of one of the retailers that carries his Vinos 1750.
Many people look forward to a glass of wine after a day at work, and that's no different after a long day of self-quarantining and working from home. One on-demand delivery app saw a 300 percent spike in sales earlier this month, and although in some states like New York, liquor stores are considered essential businesses and remain open, they only account for a small percentage of most winemakers' sales.
"In DC, we sell in restaurants, at the Jefferson Hotel, and the Four Seasons Hotel in Georgetown. They're excellent restaurants and clients, but they're going through very difficult circumstances," says Roig.
With the closing of many of these restaurants and hotels, there is a decline in sales outlets. Many of the Vinos 1750 sales take place in states across the US, France, Chile, Japan, and several other European countries, but now there is trouble with the supply chains.   
"We have an order that we cannot deliver to Japan because there are no connecting flights or boats that have capacity due to the total decrease in transportation," explains Roig.
And for the 50 percent of Roig's wine sales that take place in Bolivia, there isn't much movement happening there either. "Sales at a local level have dropped to about 30 percent. Everything is shut down," he says.
Yet, Roig maintains a positive outlook. "Our winemaker is alone in our winery right now, and these are the times to be creative and make magic," says Roig.
Roig lives in the DC area but grew up in Bolivia. He wanted to invest in his country with his wife and fellow Kogod MBA alum, Claire. Claire's French background and love for wine made a vineyard the perfect option, and sharing the business with his wife makes Roig feel even more connected to its highs and lows.
"In Bolivia, the coronavirus is kind of a double whammy for us. In August, we had an environmental disaster where a third of our country burned. We also had big accusations of election fraud," says Roig. "I'm not going to lie, sometimes it's like, really? We get one more slap, but that slap might make you really wonderful and more beautiful."
It's not often that small acts of kindness and silver linings grace our headlines. Still, with the entire world looking for anything to bring out a smile right now, we are seeing more stories of singalongs from windowsills, pet fostering as a form of companionship, sewing circles making masks for healthcare professionals, and distilleries making hand sanitizer amid shortages, among many others.
We evolve in harsh conditions. We might see the end of the handshake, but global warming prevention may get taken more seriously now that there is proof that removing cars from the roads and airplanes from the sky makes a considerable difference, and more preparedness procedures will likely be developed should we have to quickly move to remote positions at school and work again in the future.
Previous crises taught us that we, as business owners, communities, and people, can come out of hard times even stronger. In 2001, following the September 11 attacks, employee assistance programs expanded, community involvement rose, entrepreneurial ventures grew, and people developed a greater appreciation for the simple things in life, like working toward personal goals and spending more time with family and friends.
"We are persistent and passionate people. We're going to focus on making sure these points are well kept and keep growing in quality," says Roig. "2020's harvest is by far a heroic harvest; it is 100 percent nature's gift that we have used our brains and strength to make the best of."
We don't yet know what history will attribute as the legacy of this worldwide disaster. However, if Roig is an example, words like optimism, integrity, and resilience will be descriptors. For now, furthering our knowledge, getting creative, reevaluating priorities, and making the best of this situation is all any of us can do.