Business
Kogod Launches Graduate Certificate in Islamic Finance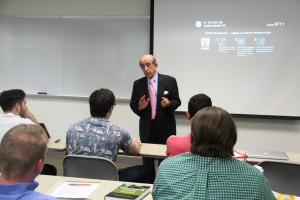 For Professor Ghiyath Nakshbendi, Kogod's Graduate Certificate in Islamic Finance isn't just a new program. It's a mission.
Nakshbendi created the certificate program as part of his larger vision of advancing Islamic finance: a field for which he is a passionate advocate. The United States is run by a very different kind of financial model, he says, and there aren't many Islamic finance educational opportunities. "I am trying to establish a legacy," he says.
His approach is different from other Islamic finance practitioners. Nakshbendi believes the field is for everyone--not just Muslims. Islam certainly informs its values and structure, but does not define it. It's a profession Buddhists, Christians and Jews alike can practice, he notes.
Kogod's Graduate Islamic Finance Certificate, launched this Fall, 2017, offers students a full-spectrum overview of the field. Class options include business courses like Financial Accounting and International Finance; economics classes such as Economics of the World Regions; and a number of mathematics-focused courses. Its interdisciplinary curriculum draws from SIS and CAS, in addition to the Kogod School.
Kogod's students and faculty inspired Nakshbendi to launch the Certificate. He held his first Islamic finance conference at Kogod in 2009 and created two classes on the topic, all of which received enormous interest and support. He wanted to capitalize on the school's excitement.
He also wanted to keep Kogod ahead of their competitors. Nakshbendi heard "through the grapevine" that other area schools were considering starting an Islamic finance program, and he wanted Kogod to be the first. "It will help us keep our curricular edge," he says.
The program also gives students a professional edge. Islamic finance is a growing field in the marketplace, and receiving training in it—especially when it's not commonly offered—sets Kogod students apart. Nakshbendi hopes the program will help them win jobs over peers who haven't studied the profession.
It's one of the reasons he's lined up so many stellar speakers. Guest lecturers are a regular part of the curriculum, offering students valuable real-life perspective from the field. This year's speakers include CEOS, lawyers and high-profile Islamic finance professionals from Kuwait, Doha-Qatar, and Bahrain, among other countries.
Integrating speakers into the curriculum also provides students with key networking opportunities. Nakshbendi intentionally connects students with each speaker, giving them the chance to form valuable professional relationships. "I make a point of inviting guest speakers who can help my students with job prospects," he admits.
He has another ulterior motive, as well: attracting Islamic finance professionals to Kogod. The certificate program is for novice students and experienced practitioners alike. Nakshbendi hopes that individuals already working in the field will also enroll, bringing their work experience—and job contacts—with them. "This is the ultimate goal," he says.
Nakshbendi has been busy in the field outside of the classroom, too. This past year, he founded the American Center for Alternative Finance (ACFAF), a non-profit that promotes Islamic Finance and other alternative finance methods in the United States. ACAF holds seminars, organizes conferences and provides information on Islamic finance to anyone interested.
ACAF offers students the opportunity to gain experience in the field outside of the classroom. Nakshbendi is excited to get his students involved—as volunteers and potential co-organizers. "It provides great supplemental experience," he says.
Nakshbendi hopes the Certificate program is a conduit for success. He aims to place his students in top financial institutions, such as Citibank or Goldman Sachs, where they can practice what they've learned in the program. Outcomes are his priority, and he wants to ensure students are flourishing after graduation.
Most of all, he hopes to fulfill his mission: advancing the field of Islamic Finance. The field is growing and developing, he says, and he wants Kogod to be a part of it. "This program offers a special opportunity to become an educational leader in the field," Nakshbendi says. "I'm excited for what lies ahead."
Learn more about the Graduate Certificate in Islamic Finance today.