Business
Spotlight on: Janicia Moore, MSMKTG '15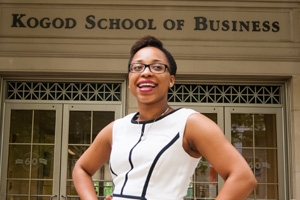 Meet Janicia Moore, MSMKTG '15. Moore is now a corporate marketing specialist at Beaconfire RED, a local digital marketing firm that helps social enterprises. She credits Kogod with giving her the skills she needed to succeed on the job. "Kogod taught me how to network, persuade people and map out my career trajectory," she says.
For Moore, Kogod's MS Marketing program was the perfect fit. She says the program gave her a global perspective that connected her coursework to the world outside of academia. Its foundation in experiential learning-especially through the Applied Client Project--gave her the real-life skills she needed to excel.
Moore emerged from the program knowledgeable, passionate and motivated to affect change. "I feel so connected to the campus, faculty and it's spirit," she says. "Kogod is a special place"
Read more about Moore and her experience below.
Kogod School of Business: Can you tell us a little bit about what you're doing now?
Janicia Moore: As of mid-July, I am now the Corporate Marketing Specialist at a digital agency that helps nonprofits and associations transform and grow their brands to have greater impact. In this role, I work with senior leadership to increase awareness of the agency's brand so that we can help more organizations accomplish their goals.
KSB: In what ways has what you've learned at Kogod contributed to your current success?
JM: Kogod taught me skills that I could use both inside and outside of the workplace. Not just marketing skills to use on the job but skills that make me a better professional: how to negotiate a salary, how to present my ideas in a compelling way, and how to carve out the career path that would make me happiest.
KSB: What was your favorite part of attending Kogod?
JM: My favorite part of Kogod was building relationships with my classmates. I've been blessed to build life-long friendships with some of the members of my cohort. Those connections, both personal and professional, give my time at and degree from American University an immeasurable value.
KSB: For you, what set it apart from schools like it?
JM: American University gave me a truly global perspective of marketing. The members of my cohort were from all over the world--Colombia, Macedonia, China, Israel--which only further expanded my knowledge and learning. American University also has a unique spirit, which is alive in it's faculty. I loved learning from my professors and reaching the high standards they set for us.
KSB: Was there one aspect of the program that was particularly impactful for you? Why?
JM: My favorite course in the MS Marketing program was the Marketing for Social Change course. Taking that course with Dr. Sonya Grier flipped on the light switch for me - I knew that social impact marketing was my calling. Having the privilege of speaking at the same conference as Dr. Grier brought the experience full circle and confirmed that I had found my place in marketing.
KSB: Anything you'd like to add about your experience?
JM: Graduate programs sometimes feel disconnected from the life of the universities or colleges of which they are a part. The MS Marketing program was the complete opposite - I felt so connected to the campus, faculty, and its spirit. The relationships I built at AU are invaluable. I think that's what made AU special for me and for so many other graduates.
Considering a Master's in Marketing? Learn more about our MS in Marketing program today.