Business
A Man of Many Trades Adam Trent, MBA '18, shares his journey to Kogod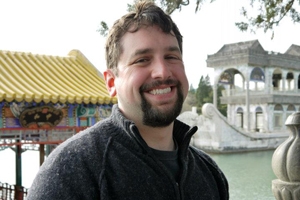 Adam Trent, MBA '18, is a man of many trades. He's been a barista and a bartender. He's worked as an animal trainer. He's taught English in Japan. And now he's pursuing his MBA at Kogod.
Trent's last job was assistant managing a boutique grocery store in Seattle, where he oversaw all of its operations. He wrote policies and procedures, trained new staff—"a little bit of everything," according to Trent.
It was here he first dreamed of attending business school. "It was a lot of fun," Trent says. "I was constantly trying new things."
Business school also linked to his previous work experience--especially in animal training. Working with animals, which he did for Busch Gardens for nearly a decade, taught him behavioral psychology. He learned how to assess underlying emotions and motivations-abilities that are crucial for any business professional.
Diverse Experiences, Different Skills
Eventually Trent left Busch Gardens to pursue his bachelor's degree. He studied global and environmental change, an interdisciplinary program that blends science with statistics and information technology. The degree was the perfect bridge, building on his experience with animals, while priming him for a more technical career.
It was still a long road before he would arrive at Kogod. After earning his degree, Trent moved overseas with his wife, a Naval officer. They settled in Japan, where Trent worked for the Japanese Maritime Self-Defense Force as an English teacher.
The couple eventually made their way back to the United States to Seattle…and, finally to Washington, DC. "I've had a lot of [varied] experiences," Trent says. "They've made me a much richer person with a really diverse skill set."
The Ideal Fit
After he applied to and visited Kogod, Trent says he felt an instant connection. "I met some of the professors and we clicked immediately. And the staff seemed really experienced," he says.
Kogod also specialized in the areas he wanted to pursue. Trent was interested in studying consulting and start-up businesses, two of Kogod's main focuses. "I still don't know what I want to be when I grow up," he laughs, "and this was the perfect chance to explore different areas."
The school's focus on sustainable business practices was also a strong draw. Trent hoped to bridge his background in environmental change to business, and Kogod offered the perfect opportunity to do so. Courses consider both shareholder and stockholder interests, balancing community needs with a company's bottom line.
"This was reassuring because it teaches the idea that it's not just about the money. It reinforced my decision to come to Kogod," says Trent.
Looking Ahead
Now at Kogod, Trent is feeding his passion for new experiences. He's President of the Graduate Business Association, Vice President of Finance for Kogod Women in Business, and he's a teaching assistant for several professors. He also hopes to participate in Kogod's Venture Capital Competition, and pick up a couple internships. "I've made a huge effort to put myself out there," he says.
He's not sure yet where his business school journey will take him, but he's got a few ideas. He's considering a career in human resources, which would combine his business expertise with his behavioral psychology background. Or maybe consulting, which capitalizes on his many different skillsets.
"I know a little bit about a lot, which allows me to approach a company's problem from many different angles," he explains.
Whatever path he chooses, it's certain he'll enjoy the journey on it. He's honoring his "jack of all trades" past and taking advantage of every opportunity he can. This is the time to try things, he says, and he plans to make the most of it. "There's just so much to learn," Trent says. "I'm excited to soak it up."
Learn more about Kogod's MBA program and graduate degrees.