Business
A Morning with Entrepreneur Daymond John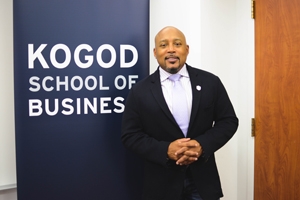 When Daymond John, CEO of FUBU and Shark Tank investor, took the floor at American University the morning of Thursday, November 16, you could hear a pin drop. The crowd sat in quiet anticipation, waiting for John to share his entrepreneurship wisdom—and maybe a few secrets, too.
John started at the beginning, talking about his days as a teenager working shifts at Red Lobster while launching what would become FUBU, the "For Us, By Us," clothing company. The business, which he started in his mother's Queens, New York home, quickly became iconic in the hip-hop world, eventually growing into a multi-billion dollar enterprise.
John's talk kicked off HSN's inaugural American Dreams Academy, hosted by AU's Center for Innovation. The summit brought together approximately 100 budding entrepreneurs from across the country for two days of entrepreneurship lectures and workshops. All participants received full scholarships to cover their cost of attendance.
John has seen his success over the years, but he's also experienced his let-downs. He admitted that he's almost "lost it all" several times due to risky choices and what he calls "poor financial intelligence." Everything is a learning experience, though, he says-an approach that's propelled him forward throughout his career.
"Failure needs to be taken in bits and pieces. True entrepreneurs take things step-by-step. They know that one person's failure may be another's victory," John says.
I was lucky enough to sit down one-on-one with John after his talk. During our conversation, he offered rich insight into his own journey-what motivates him, what impassions him, and how he got to where he is today.
"I think we're all born thinking like entrepreneurs, then someone convinces us that we're not. [We all have it in us]."
Read more from my conversation with John below.
Kogod School of Business: What continues to motivate you as an entrepreneur?
Daymond John: I ask myself that question often. It's my staff, first of all. There are a lot of great people who work for me and dedicate their time to me. I also feel like I worked so hard to get to where I am in life, why would I just stop? I'm proud of where I am. I hope I can make others better by encouraging them to pursue their passions, too.
KSB: What's one thing you know now that you wish you knew before you become an entrepreneur?
DJ: I needed financial intelligence, desperately. I almost lost everything three or four times. I didn't go to college, and a lot of young adults ask me if they should. I say absolutely because it gives you an understanding of numbers. It doesn't matter if you're running apple, or you're balancing a checkbook at home, financial intelligence is key.
KSB: In what ways has your upbringing and experiences outside of work informed your entrepreneurial spirit?
DJ: I grew up in a town where a lot of the community got destroyed by drugs. I found a way to escape through hip-hop. I saw an exit-something I loved. Later on, I ended up creating a way to dress for hip-hop artists. It created who I am today.
KSB: You've made a lot of investments on Shark Tank. Are there any you wish you had made?
DJ: No. The reason is that you can't have it all. There will be some ventures other sharks invest in that I didn't that will become successful. If I was the person investing in it, it may not have worked. You can't wonder about what got away. People who think like that, especially when they're entrepreneurs, [won't be successful]. Keep learning, keep doing what you're doing, and be passionate about it. Don't ever do something you're not passionate about.
KSB: Finally, what advice would you give to an entrepreneur-here at Kogod, or out in the world?
DJ: Understand that you're going to hear "no" forever. I hear no all the time. Mark Zuckerberg still hears no. Love what you do. Surround yourself with like-minded people. Be prepared for a lot of mistakes. And take affordable steps.
Learn more about Daymond John.
Learn more about AU's Center for Innovation.