Business
Where Future Financial Analysts Are Made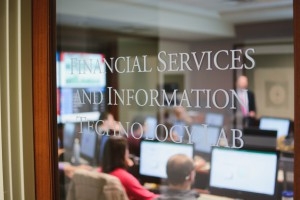 When Dasha Savchenko, BSF '17, graduates next month, her diploma will say that she has earned a bachelor's degree in finance. But thanks to the Financial Services and Information Technology (FSIT) Lab, that won't be the only accreditation she receives from Kogod—she'll also have a certification in Excel, PowerPoint and the Bloomberg Terminal.
"I think [the FSIT Lab] is one of the best things that Kogod has to offer," Savchenko says. "When talking to prospective employers, one of the things they look for is technical skills, and the lab is the one place you can get them."
In addition to helping students bolster their resumes, Octavian Ionici, Director of the FSIT Lab, explains how the lab enables students to bridge the gap between theory and real application. Students leave having "created a deeper understanding of the interactions between business and government," Ionici says.
A Space to Put Learning into Practice
Savchenko found herself in the FSIT Lab virtually every day at certain points during her undergraduate studies. She took numerous classes in the lab, including financial modeling. She has been working as a lab assistant since her sophomore year. And she spent countless hours in the lab working on group projects and conducting individual research.
"It's a great place to work because of the functionality of it," Savchenko says.
The lab has a total of 38 computers, each outfitted with the latest financial modeling technologies: Bloomberg, Thomson Reuters, Capital IQ, Fitch and more. During classes and workshops, students don't just take notes and follow along—they create their own models in real-time at their computer stations.
"It's a lot easier than walking through a textbook or screenshots of the process," Savchenko says.
Ahead of Its Time—and Still Cutting Edge
Ionici helped create the lab at AU in 2009, when there were only 45 universities around the world with similar facilities (now there are 345 in the United States and Canada alone).
"The FSIT Lab's power, compared to other universities' trading rooms, is its integration into the core business curriculum," Ionici says. "Students need to have the skills to start working from day one effectively."
Since the lab was founded, the computers have been continuously upgraded to ensure students have access to the latest technologies. Ionici has also made sure to offer more workshops and courses including investment banking, the tools of financial markets and real estate financial modeling. These offerings provide more than 1,600 students with the opportunity to hone the skills they need once they enter the job market.
How Kogod Students Distinguish Themselves from the Competition
Savchenko credits the lab for helping her stand out in her previous internships and in her ongoing job search—not only from her peers, but from the staff members as well.
"As an intern [for a real estate valuation company] I was more prepared than even people who were there full-time," Savchenko says. Even staff who work at the company didn't have the same experience using financial technologies to access and analyze companies' financial information.
"This is the differentiating factor," Ionici says. "After they graduate they don't leave Kogod with just a degree. They have a better understanding of the business and the profession because they also have the exposure to the company management."
Learn more about Kogod's FSIT Lab and its offerings.