Business
Kogod Inspires Alum to Make an Impact Brice Ngameni, BSBA '12, is using the skills he learned at AU to help his home country.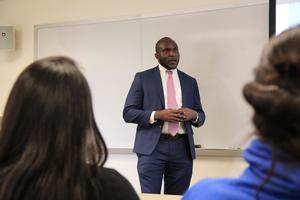 When Brice Ngameni, BSBA '12, arrived at Kogod, he wanted to focus on development economics, a topic he'd always found fascinating and one that deeply affected him—his home country, Cameroon, has suffered from economic uncertainty, government corruption, poor infrastructure, and high poverty rates for decades.
"I took classes in global metrics and finance modeling," Ngameni said. "I took as many classes as I could that were related to my primary interests."
His hard work and focus paid off when he landed a job at Citi that allowed him to focus on financing infrastructure in emerging markets in places like sub-Saharan Africa and Latin America.
"I spent a year [at Citi] working on projects in my home country, which was probably one of the most rewarding things in my professional career," Ngameni said.
In 2015, he was promoted to assistant vice president of Citi Export & Agency Finance where he lent money to sovereign or corporate clients looking to raise funds for specific projects. In Zambia, he facilitated a $72 million transaction to help the government build bridges across the country. In Barbados, money went to a project installing water heaters across the island.
Even though he was making a positive impact on countries in need, Ngameni's ultimate goal was to work for the government of Cameroon and give back to his country. A JD/MBA from Harvard University, he decided, was just the way to do it.
Ngameni explained his choice to go back to school by stating, "Law school makes a lot of sense, because I think a lot of the problems that we face in Africa and across emerging markets in general are related to the quality of our institutions."
His decision to attend Harvard wasn't due to the prestigious name but rather its potential to help him foster more international connections like the ones that he had already made at Citi, AU, and in his personal life.
Ngameni's background in law and business has taught him that the three most essential qualities for progress and success in the work place are assertiveness, empathy, and being a good team player. He urged others not to underestimate how critical these skills are.
Ngameni attributed his ability to communicate across business cultures to his diverse experiences.
"Being from an emerging market country in my line of work was just incredibly useful—not just in Africa," he said. "Many countries outside of America don't have a 'get straight to business' kind of culture. My cross-cultural exposure helped me to build a rapport with clients and gain trust."
At Harvard, Ngameni plans to take classes about international law and development to learn how to boost growth in his home country. His experience in Cameroon and the mission of the Kogod School of Business have inspired him.
 "I [want] to do work that really allows me to make a positive contribution. I hope to support projects that will impact others," he said.