Business
Professor Bird Retires After 29 Years "I think my next chapter is not that different than adolescence. The future is wide-open."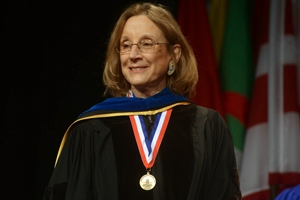 For the first time since Barbara Bird, Professor of Management, started at Kogod 29 years ago, she doesn't have a plan—and she loves it. She'll retire at the end of August, and, save for some loose travel plans, is keeping things open-ended.
She's excited to explore her newfound freedom, but quick to admit she'll miss Kogod terribly. Her colleagues, her research projects, the university's diverse environment--all of it will stay close to her heart.
What she'll miss the most? Her students. Over the past three decades, Bird's developed deep and meaningful relationships with pupils--connections that define her professional life.
"I adore my students," she says. "I think the best legacy I can leave is with those I've taught."
Her commitment is apparent when she talks about the work she's done to develop her teaching. Bird, a self-described "contrarian" who's a bit "out-of-the-box," delved into improv comedy as a way to build her teaching skills. She wanted to think quicker on her feet, and thought the fast-paced art of improv could help her do so.
She loved it so much she eventually formed her own troupe: the Home Improv-ments. The wittily-named group rehearses and performs regularly, giving Bird the experience she needs to stay on her toes in the classroom.
The Home Improv-ments also gave her the chance to flex her organizational behavior skills. Bird, who has a PhD in the field, built the troupe from the ground-up. "I've been able to develop my leadership and my teaching skills," she says.
Her true passion, though, is entrepreneurship. She's an avid researcher of entrepreneurs' cognition and behavior. The topic is a bridge between business and social psychology--Bird's other field of expertise—and offers the chance to investigate one of today's hottest business areas.
She's currently an emeritus scholar for AU's Center for Innovation, and is an editor for Entrepreneurship Theory and Practice, where she's worked since 1987. Bird notes that these extracurricular projects give her a "very broad understanding of what's going on in entrepreneurship," which better informs her teaching. "It's been an interesting combination with the improv troupe," she laughs.
She'll continue a couple of entrepreneur-focused research projects after leaving AU. She's in the midst of studying DC Latino entrepreneurs for AU's Center for Latin American and Latino Studies. She's also working with an organization in Switzerland who is researching repeat entrepreneurs.
Whatever her retirement brings, however, it's certain she'll stay tied to Kogod in spirit. It's been an honor to teach and work with such talented people, she says, and she hopes they'll stay connected in her absence.
Perhaps her biggest point of pride is simply having been a part of the community itself. She's watched Kogod, and the university as a whole, grow immensely since she started. She feels privileged she got to contribute, and is excited to see what's ahead for the school.
"Sometimes I wish I wasn't leaving because I know Kogod will seize many great opportunities in the next several years," she says. "But I know it's also time to start my next chapter."
Want to learn more? Listen and watch Professor Bird's last lecture at Kogod.