Business
Building Careers, Making an Impact Introducing Raina Gandhi, the Office of Career Engagement's assistant dean of career services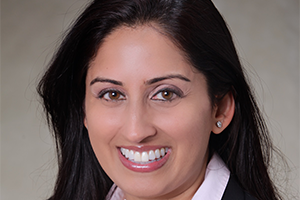 Raina Gandhi, Kogod's new assistant dean of career services, is on a mission. She wants to continue building Kogod's career center (newly re-named the Office of Career Engagement) into a cutting-edge resource - one that empowers students to own their futures.
"I believe we are all the CEOs of our own careers," says Gandhi, "and that we're here to provide students with the guidance and resources they need to be successful. The student is the leader; the Office of Career Engagement is their board."
Reviewing Gandhi's own career, it's easy to see where this philosophy comes from. She has worked in investment banking in New York City, researched business solutions to help impoverished women in India, consulted clients on the MBA admissions process, and served as an industry expert and coach. Her experience is certainly varied-a trajectory showing her curiosity, and her professional ingenuity.
"It's been a journey. Working [in so many varied roles] gave me many different perspectives. I am looking forward to incorporating lessons from my past experiences into my work at Kogod," Gandhi says.
She will continue honing her office's strategy, shaping it into a more "go-to-market" approach that is focused on experiential learning. She's also strategizing how to meet different groups' needs so all constituents are happy - whether they're athletes, international students, alumni, or employer partners.
Gandhi hopes to affect positive change at Kogod, empowering students, alumni and her team to build strong and meaningful careers. "I was taught to always make a place better than I found it. In whatever way I can provide value - be it with one student, a program, or the entire university - I want to make things better," she says.
Read more about Raina Gandhi and her plans for the Office of Career Engagement below.
_____________________________________________________________________________
Kogod School of Business: The Office of Career Engagement's mission is to empower Kogod students and alumni to build meaningful relationships and careers. Can you talk about building your own career, and what led you to where you are today?
Raina Gandhi: I started my career in investment banking working for JPMorgan Chase in New York City. From my perspective, it was the best way to jump-start my career. I learned many facets of business: financial modeling, valuation, understanding high profile transactions. I had the opportunity to learn in such an empowering environment, which was a really amazing experience.
Then, in contrast, I spent a year in India working for two microfinance organizations. I not only had to speak in Hindi and Gujarati, but also had to speak in different dialects within these languages. It was a completely different environment, which helped me become more flexible and versatile.
After I earned my MBA from Wharton at the University of Pennsylvania, I started to grow my family, so my priorities changed. I switched careers from banking to do more MBA admissions consulting and career coaching, which gave me more flexibility for my family. I loved it because it was an opportunity to apply the skills I learned in business school while helping others build their dreams.
KSB: How does your experience in financial services complement your current role at Kogod?
RG: It's all about transferrable skills. Investment banking taught me the importance of a strong work ethic and to have high standards for my work product - it's competitive and fast-paced with a high level of accountability. I use these skills every day in my personal and professional life.
I think the other thing I learned at a pretty young age is how to manage many different stakeholders' needs. At JPMorgan Chase, my team was very small, so I had the opportunity to work directly with managing directors and senior client leadership to help them navigate their conflicting needs. I think these are very similar challenges to the ones I face here.
This experience also gives me more credibility in my current role because I have that industry perspective. Students come to talk to me about the business world and I can say, "I've been there!"
KSB: Is there a professional experience you've had that was particularly impactful? Why?
RG: I think the most impactful part of it all is the mentorship aspect. I do think there is something special about coaching someone to maximize their human potential. It's just always been a part of who I am, so this transition into higher education was very natural. It's very fulfilling for me.
KSB: Can you tell us about your new role as assistant dean of career services?
RG: I'm really focused on defining our vision. I want us to build our experiential learning opportunities, international profile, and go-to-market strategy. It's one thing to study what a trading floor in New York City looks like…it's another to go there and actually experience it. I want us out in the marketplace - getting to know people in different functions and at different management hierarchies.
In order to do this, I have to have a good pulse on what types of jobs are out there, and what the market looks like. So, I'm doing a lot of analysis in advance so we know how to set our programming moving forward.
KSB: What are some of your goals for the Office of Career Engagement?
RG: Kogod has a very diverse student population and a big portfolio of programs. Our goal is to meet the needs of each of these individual student groups and be successful in educating them based on where they are in their career journey. 
I also want us to be ahead of the curve technology-wise. Strong platform skills will help our students be successful when interviewing for jobs or participating in case competitions, for example. 
KSB: What are you most looking forward to?
RG: Working with my team to build the Office of Career Engagement and offer world class services and resources to the Kogod community. I'm so lucky to have inherited [my team]. They're talented, smart and motivated. And are very excited to try new things. This allows me the freedom to think about our strategic vision and how we want to move forward. I don't have to worry about the day-to-day as much because they're so capable. I'm really looking forward to continuing to build our team, and form relationships with each member.
KSB: At Kogod, we believe business is a force for meaningful change. In what ways does your work connect to this overall school belief?
RG: I think the top three reasons people come to business school are to build their network, enhance their career, and obtain a strong business education. The Office of Career Engagement gets to play a significant role in all of these things. We help students and alumni cultivate the relationships they need to be successful. It's not about the job search-it's about nurturing a life skill. That's why this job is fulfilling. We can really make a difference.
KSB: What impact do you hope your work will have?
RG: Before I came to Kogod, I worked on the market readiness and employment team at the Wake Forest University School of Business. When I left, I was very humbled, because my boss, the Chief Corporate Engagement Officer, told me "You're leaving this place better than you found it. You made a difference in this place." That's the impact I want to make.
Learn more about Raina Gandhi and the Office of Career Engagement.