Business
ReImagining Industries with Innovative Technology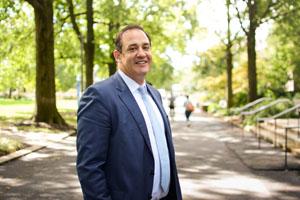 In one of the most challenging environments to create change, Kogod alumnus Jose Arrieta is making waves. As the Health and Human Services' (HHS) associate deputy assistant secretary for acquisition, Arrieta is bringing innovative technology to the government agency and, hopefully, beyond.
 
In his current role, Arrieta is helping push the agency's ReImagine HHS initiative forward with a combination of artificial intelligence, automation, and blockchain with the goal of transforming the acquisition process. Within ReImagine is another program called HHS Accelerate that, Arrieta shared, "is the energy that will fuel the change that has to occur at HHS." 
 
"ReImagine creates the umbrella for change," Arrieta said. "It's revolutionary because we're taking business processes that are extremely costly and we're making them more efficient and effective through automation and computing power." 
Through the Initiative, Arrieta is using machine learning algorithms to organize data from five contract writing systems. He then uploads information onto the hyperledger data fabric layer that can be shared across HHS, helping optimize different elements of the acquisition process.   
He's approached the challenge by incorporating user feedback and utilizing human-centric design to ensure that the agency's system is working for those who use it. Arrieta not only asks people what their pain points are, but he also watches their log-in process and how they do their jobs. "The reason we do human-centered design is because there are functional things you become so accustomed to doing that you don't complain about them anymore," he said.
What's exciting for Arrieta isn't just that this approach allows users to help shape the final product. It's that, through blockchain technology, individuals can tailor their experience to their personal needs—without changing the data set.  
"I actually have visibility into what you're doing, and that's powerful, because I now have an understanding of how you behave on my business network," he said. 
Arrieta is bringing his expertise back to American University on November 7 for the Kogod Blockchain Forum, which is part of Kogod School of Business' Blockchain Initiative. He's been directly involved with the Initiative, and has a vision for how Kogod can capitalize on the growing blockchain trend. He'll serve as the closing keynote at the Forum.  
Arrieta believes there is room for educational institutions to grow as blockchain becomes more popular. Because of its location in Washington, DC, Kogod in particular has the opportunity to partner with some of the biggest technology companies in the world. 
"Let's give students some real-world experience, let's bring in companies from the region to partner with the students so they can get their hands dirty and they can try and work on things," he said. "That's the evolution of education."
Kogod's Blockchain Initiative is founded upon this philosophy. In addition to the Forum, the Initiative also supports experiential-based classes in blockchain, as well as student-faculty research projects. Courses include Blockchain in the Global Economy, which gives students the chance to spearhead projects with real technology clients, as well as Survey of Blockchain, which will be offered next semester. 
The Blockchain Forum also has an experiential basis, engaging experts from the private sector, various government agencies, academic institutions, and NGOs in an exchange of ideas and best practices in the field. The event includes panel discussions, keynote speeches, and TED talks, all surrounding blockchain's transformative power in business. 
"This [technology] is fundamentally changing our industry because if you can execute within the US government successfully, you can certainly transform the way [anyone does] business," Arrieta said. "It's having a ripple effect on our industry."
Back at HHS, Arrieta will continue building and advancing ReImagine HHS, helping the department revolutionize their acquisition process. He hopes to also continue affecting change within the agency and at Kogod by implementing blockchain—into the department's business processes and the school's curriculum. 
"[This technology is] transformational" Arrieta said. "We're providing insight and information to [take] some action. We're providing value that significantly lowers our cost of doing business." 
Learn more about Jose Arrieta and the Kogod Blockchain Forum.