Business
Stronger Communities, Stronger Businesses Kogod professor Jay Simon's research demonstrates that kindness isn't antithetical to success—it's essential.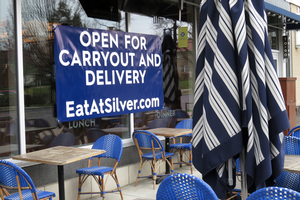 With the nation—and much of the planet—reeling from the coronavirus pandemic, it's easy to succumb to anguish and despair. But if you squint hard enough, you can see signs of hope. Jay Simon, an associate professor at American University's Kogod School of Business, is noticing enormous acts of kindness and generosity—and it's very much in keeping with his research.
Simon has found that altruism can be an integral part of daily decision-making. Now, in real time, he's watching people and businesses step up to the plate to support their communities.
"A company is just a collection of individuals," says Simon, a professor of information technology and analytics. "What we find is that when individual people care about the group as a whole, it's often in a person's best interest to behave altruistically toward other members. We're seeing that play out all over the place right now, and it's a wonderful silver lining."
Keeping Afloat in Trying Times
Large grocery and retail chains are now offering bonus and hazard pay. Wegmans Food Markets recently gave its employees $2 per hour raises, and Target just announced similar pay raises and a new paid leave option.
It's especially noteworthy, Simon argues, that small businesses and organizations are making altruistic decisions at the local level.
"There are tons of restaurants now, usually open in a limited capacity, where it'
s very clear they're operating at a loss. They might be getting only a few customers per hour," he says, possibly for takeout or Uber Eats. 
During these extraordinary times, they're faced with difficult choices about forgoing immediate profit.
"If that value of keeping their employees and customers happy is greater than the short-term cost that they're incurring, and if this [person or group] is behaving altruistically, it's a win-win," he says. "It's in the best interest of everyone connected to that business. That's an opportunity that, in day-to-day operations, doesn't come up very often."
How to Help People (Without Going Near Them)
It might seem paradoxical: While people are urging civic-minded unity, we're also staying home and practicing social distancing. We're nowhere near the post-Hurricane Katrina stage of volunteers descending on New Orleans to help rebuild a decimated city. But Simon has been impressed with some creative digital charities. For instance, there's a DC virtual "tip jar," where people can give money to servers and bartenders through Venmo or PayPal.
As a decision analyst, Simon talks about trade-offs people can make to help each other.
"Think about whether it's worth a few extra minutes at the grocery store to pick up some things for your neighbor and drop them off on their front porch," he says. "Is 10 minutes of my time worth lowering my neighbor's chances of catching this disease from 20 percent to 15 percent?"
Some feel-good stories about charitable giving raise thorny ethical questions. After several NBA players made financial commitments to out-of-work arena employees, skeptical journalists argued that billionaire team owners—not 19-year-old rookie Zion Williamson—should be the ones assisting concession staff.
Simon can't fathom why rich owners, from both a PR and future operations perspective, wouldn't want to soften the blow for stadium workers. And he also notes that there are myriad reasons why anyone gives back.
"Zion Williamson may look at the people working at the arena as part of his community. He cares about them, and he wants their situation to be better."
The Bigger Picture
Simon explored altruism and decision-making in a 2016 research paper published in the journal Theory and Decision, and he co-authored a forthcoming paper about altruistic preference models in Decision Analysis.
He hopes his research can help people think more clearly about the decisions they're making, and how outcomes can affect multiple people.
At first glance, it may seem like he's refuting traditional economic theory—with its emphasis on personal financial incentives—but he's examining people's decisions more broadly. That means factoring in how you support your family, friends, colleagues, and community.
"Economists might refer to it as utility, and utility can refer to anything. It can and should include anything that you care about," he says. "It shouldn't just be about what stuff you have in your house, or how much money is in your bank account."