Student Life
Hidden Gems: Beethoven Facsimile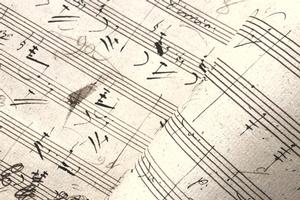 The genius and influence of Ludwig van Beethoven are undeniable to the modern scholar. He wrote over 240 major pieces in his 56 years, including nine symphonies, five piano concertos, 16 string quartets, and 32 piano sonatas. Often considered "ahead of its time," his work was critical in the historical transition from the Classical to Romantic periods of Western concert music. Though his direct influence can be found in the works of artists ranging from Mahler to Pink Floyd, many music lovers feel intimidated or even alienated by Beethoven and his legacy; he feels untouchable – deified by the constructed culture of Western music.
But, here's the thing: Beethoven was not above hissy fits. He had them all the time, and there are even traces of him becoming annoyed with himself in his original manuscripts. This is especially evident in the manuscript for his 30th Piano Sonata.
The Sonata itself is fantastic. It contains moments of lyrical beauty, angsty intensity, and sincerity that will tug at your heartstrings. You can stream a recording of it through our streaming service with an AU login.
As you pour over the pages of the manuscript, two things are immediately evident. The first is that Beethoven's handwriting is all over the place. The pages are full of scrawls, swoops, and squiggles. I can make out the melody of the piece primarily by the contour of the notes rather than their actual pitch content. The forward to the manuscript, provided by musicologist Oswald Jonas, amusingly notes that "Beethoven, in sending his original manuscript to the publisher, was optimistic when he wrote in his accompanying letter (March 7, 1821), 'My manuscript will probably be legible.'" Uhh. Sorry, buddy.
The second notable aspect of the manuscript is the plethora of cross-outs, ranging from dark and frustrated to light and loopy. Here is Beethoven, one of the great masters, changing his mind (a lot!) and getting mad at his own mess-ups. There is a would-be passage in the manuscript's second movement where almost an entire page is blotted out. He played with, reworked, and sometimes full-on gave up on material he wrote. Through bearing witness to these processes and exasperations, we see that Beethoven, while a great composer, was also more human than we often give him credit for.
More information about the history of this piece and its original manuscript can be found in the facsimile. We have a sizeable collection of facsimiles at the Music Library, and you can check many of them out as you would any other score. I highly encourage you to explore this collection – there is much to be learned about the creative process of great artists within their pages.