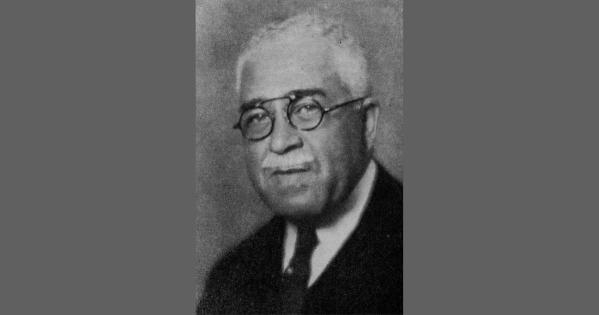 Welcome to Feature Fridays! Each week music library staff highlight an item from our collection. While the music library is closed, we will feature items that are available for streaming. This week Music Library Coordinator Amanda Steadman reviews Southland Sketches, by Harry T. Burleigh, on the album American Journey from Naxos Music Library. 
For the start of Black History Month, I want to feature a Black composer who means a lot to me personally, Henry Thacker (Harry T.) Burleigh. Burleigh was a prolific, early 20th-century composer who happens to be from my hometown of Erie, Pennsylvania.  
Harry T. Burleigh was born in Erie, PA on December 2, 1866. He moved to New York City in early 1892 to study at the National Conservatory of Music, where he met and studied with Czech composer Antonin Dvorak. His influence on Dvorak is well-documented; he introduced Dvorak to the African-American spirituals. Burleigh said of their relationship, "I sang our Negro songs for him often, and before he wrote his own themes, he filled himself with the spirit of the old Spirituals." Dvorak later said in an interview, "In the Negro melodies of America I discover all that is needed for a great and noble school of music." This is evident in Dvorak's 9th symphony "From the New World", arguably his most well-known work. In the Symphony, a flute theme in the second movement resembles the spiritual "Swing Low, Sweet Chariot," which likely he heard sung by Burleigh during their time together. You can listen to a recording of this piece from Naxos here.  
Dvorak encouraged Burleigh to preserve and promote spirituals, saying, "Give those melodies to the world," which Burleigh certainly did. Burleigh is most well-known today for his arrangements of spirituals and they were popular during his lifetime as well. After his studies at the National Conservatory, Burleigh worked for music publisher Ricordi in New York for many years. He used his influence to promote publication of his works and those of other African American composers.  
My exposure to Burleigh's works began as an undergrad; my music history professor, Jean Snyder, wrote a definitive biography of Burleigh, which was published in 2016. I was her research assistant off and on for a few years while she was working on the book. During my undergraduate work and while I lived in Erie for a few years after grad school, I was fortunate to hear our local orchestras perform arrangements of his songs and spirituals and to hear friends perform the piece I am focusing on today, Southland Sketches.  
Southland Sketches is a 1916 work for violin and piano. It consists of four movements, which Burleigh arranged from an earlier work for solo piano titled From the Southland. Southland Sketches is long out of print, so the score is not available from the AU Library; fortunately, it's also out of copyright, so it is readily available from the Petrucci Music Library (IMSLP) for free, legal download. Pianists can find From the Southland in the AU Music Library collection. Both works are very accessible to performers and audiences alike; they're easy to listen to and at an intermediate level for performers. Both works feature spiritual-influenced themes throughout; although none of the themes are direct quotations, they are reminiscent of this style. 
I highly recommend Southland Sketches for anyone looking for some easy listening American music. 
You can listen to more of Burleigh's work on Naxos with your AU credentials. Amanda suggests the albums Songs and Spirituals and Art Songs of Harry T. Burleigh for his some of more well-known vocal music. 
If you'd like to learn more about Harry T. Burleigh and his vocal music, check out this recent documentary from the Aural Compass Project on YouTube!