Student Life
Spooktacular Halloween Titles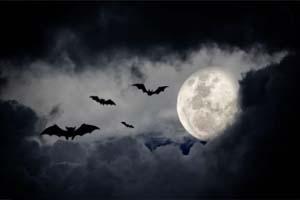 Dracula - This classic novel by Bram Stoker is sure to get you in the Halloween spirit! The book was published over 100 years ago and tells the story of Count Dracula, who moves to England from Transylvania to find new blood and spread the undead curse. Dracula has been the subject of several films, plays, and television shows.
Gone Girl - Gillian Flynn's psychological thriller takes the reader on a roller coaster ride as protagonist Nick searches for his wife Amy, who goes missing on the morning of their 5th wedding anniversary. As Nick seeks to find Amy accusations of lust and betrayal are revealed. The book has sold over 15 million copies worldwide and was turned into a motion picture starring Ben Affleck and Rosamund Pike in 2014.
Thriller - The late Michael Jackson's 1982 smash still draws crowds to the dance floor! The lead single from the eponymously named album will definitely get the party started and potentially cause re-enactments of the iconic music video!
Halloween - The first of this franchise was released in 1978 and is considered a cult classic. The film stars Donald Pleasance and a young Jamie Lee Curtis. In 2006, the Library of Congress National Film Registry selected the film for preservation.
Scream - This 90's slasher film tells the story of Sidney Prescott who becomes the target of a mysterious killer named Ghostface. The film's stars include David Arquette, Drew Barrymore, Neve Campbell, and Courtney Cox, and was directed by the late Wes Craven.
Monsters, Inc. - If you need a family-friendly option, this 2001 animated film is the perfect choice! The film features the voices of actors Billy Crystal, John Goodman, and Jennifer Tilly. The film grossed over $500 million worldwide and spawned a prequel, Monsters University in 2013.
Clue - Staying in with friends this Halloween? Borrow this classic board game and solve a murder mystery while you snack on yummy candy!
Hocus Pocus - This fan favorite is celebrating 25 years since its theatrical release. The film stars Bette Middler, Sarah Jessica Parker, and Kathy Najimy, portraying witches from the 17th century who are accidentally released by a group of teenage friends.
Connect with us on Pinterest to find other Halloween titles and more!