Student Life
Feature Fridays Film Soundtracks via Naxos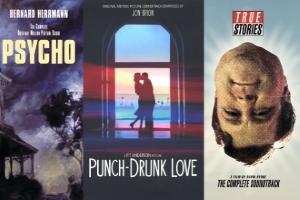 Welcome to Feature Fridays! Each week, AU Music Library staff highlight an item from our collection. While the library is closed, we will feature items that are available for streaming. This week student assistant Jalen Lesly reviews several film soundtracks available on the Naxos streaming service.
One of many databases that American University students can access via the American University Library website, Naxos is host to a vast collection of music from various genres. Of particular note is its wide selection of film soundtracks, which is comprised of an impressive array of scores from many famous composers and movies. For this week's blog post, here are three of my favorites.
First up is a classic: Bernard Herrmann's renowned score for the iconic Hitchcock film Psycho. The version available on Naxos is performed by the Royal Scottish National Orchestra, conducted by Joel McNeely. This particular version is not available on Spotify and features an extra track,  "Cleanup",  that is not included on the National Philharmonic Orchestra version. It's also a bit speedier than the renditions from the original film, and some other recordings, but this only adds to the frenetic nature of the score. Though the track titles are a bit uninspired, and usually blandly descriptive of a given scene that the piece appears in, the pieces are often short – more like movements than complete pieces – which provides the illusion of a contiguous project. If you've seen Psycho before, it's possible to visualize many of the scenes by listening through, as the pieces are in the same order as they appear in the film. Though it's not one of my favorite Hitchcock movies (and arguably overrated in my opinion), its soundtrack is truly iconic and crucial to the movie's status as being one of the most infamous horror movies of all time.
Next up, one of my favorite contemporary film scores: Jon Brion's wonderfully quirky score for the Paul Thomas Anderson love story Punch-Drunk Love (aka one of the now two "good" Adam Sandler movies – thank you Uncut Gems!). Brion's score is a dynamic one, clear from listening to the first track "Overture", which begins with understated electronic chirps before turning to more traditional orchestration and finally concluding with more of a tropical sound. These three different styles reflect the three acts of the film's structure, and the three styles that Brion uses to reflect the distinct moods of each act. The first, characterized by Barry Egan's bizarre employment and neurotic actions, is punchy, erratic, and electronic (and reminds me of Michael Andrew's wonderful score for my favorite film, Me and You and Everyone You Know). The second, the more traditionally orchestrated style, is befitting of the awkward and quaint beginnings of Barry's and his newfound love interest Lena's relationship. The third and final style reflects Barry and Lena's island detour to Hawaii, a work-turned-romantic getaway which causes their relationship to blossom. Traditional and experimental in turn, it's a score that is sweet sometimes and dark at others, and I love it almost as much as I love the film (one of my favorites from Anderson for sure).
Last but certainly not least is David Byrne's soundtrack and score for his strange and captivating small-town musical comedy, True Stories. Equal parts jukebox musical and quasi-surreal, nearly Lynchian ordinary-folk comedy, the film is rife with social commentary and bizarre behavior, punctuated by brand new Talking Heads music. Naxos hosts the complete version of the soundtrack, which features both Byrne's original score (accompanied by contributions from Terry Allen, Carl Finch, and the Cronos Quartet, among others) as well as all of the tracks from Talking Heads' 1986 album True Stories, which contains all of the band's songs for the film. Overall, it's a very spirited and charming affair and a perfect encapsulation of the film's energy: that of a small (but growing) town colliding with the industry of the big city. It's also got some great and underrated Heads cuts on it; though "Wild Wild Life" is the album's biggest hit, I'm a big fan of "Love for Sale" and "Puzzlin' Evidence" as well as "Radio Head" (which, yes, is the namesake of Yorke's Radiohead, in case you were wondering). Any fans of Byrne and Talking Heads should definitely check it out if they haven't already!
The soundtracks for Psycho, Punch-Drunk Love, and True Stories are available to stream online through Naxos with your AU credentials.