Student Life
Feature Fridays Nebraska, by Bruce Springsteen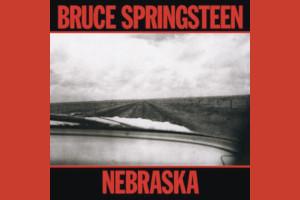 Welcome to Feature Fridays! Each week, AU music library staff highlights a CD or artist from our collection. This week, Music Library Coordinator Amanda Steadman reviews Nebraska by Bruce Springsteen.
I never feel more like an American than I do when listening to Springsteen. To me he's the sound of road trips, the voice of blue collar towns like the one where I grew up, and what I like to listen to on our patriotic holidays. Springsteen's songs remind us that America can be complex and dark but still hopeful. In my first full-time job out of grad school, one of my dear colleagues listened to Born to Run so much that it became a permanent part of my personal soundscape.
Springsteen is in somewhat of a renaissance this year: he celebrated his 70th birthday on September 24, a documentary about his June 2019 recent album, Western Star, premiered at the Toronto Film Festival in early September and will be released to theaters for a limited engagement in October, and another film heavily featuring his music (Blinded by the Light) was released this summer. He's been making music professionally since 1972, nearly five decades.
Celebrating the 37th anniversary of its release on September 30, Nebraska is Bruce Springsteen's sixth studio album. It is noticeably stripped down, quieter compared to his earlier albums like The River. Though he began writing these songs for the E Street Band, listening to the demos he recorded, he decided they were meant to be heard in these sparse, acoustic settings. Though I was more familiar with the E Street sound before sitting down to write this review, I'm learning to love quieter Springsteen too.
The strongest track on this album, to my ears, is "Atlantic City." It's easily the catchiest song, in spite of the sad lyrics: "Everything dies baby, that's a fact, but maybe everything that dies someday comes back." Someone else must love it too - it's included on several live albums, the 1995 Greatest Hits release and 2003's The Essential Bruce Springsteen. Beyond "Atlantic City," Springsteen gives us a lot to love here. He's the only musician, accompanying his vocals with guitar, organ, and harmonica. In the original 1982 Rolling Stone review, Steve Pond describes the album as "a portrait painted with old tools: a few acoustic guitars, a four-track cassette deck, a vocabulary derived from the plain-spoken folk music of Woody Guthrie and the dark hillbilly laments of Hank Williams." If you like folk music, you may find this album more to your liking than Springsteen's work with the E Street Band.
The Music Library owns five additional Springsteen albums beyond Nebraska: Greetings from Asbury Park (1973), The Wild, the Innocent, and the E Street Shuffle (1973), Darkness On the Edge of Town (1978), Born to Run (1985), and an album of his greatest hits, creatively titled Greatest Hits (1995). If you're looking for a good introduction to his work, I suggest starting with Born to Run and the Greatest Hits.