Student Life
Feature Fridays Kid A, an album by Radiohead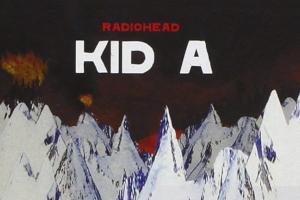 Welcome to Feature Fridays! Every week, the AU music library staff highlights a different CD or artist from our collection. This week, Student Assistant Dan McCahon reviews Kid A, an album of works by Radiohead.
Atmospheric and eerie are the two words that spring to mind when thinking of Radiohead's album Kid A (2000). The album opens with "Everything in its Right Place" an electronic song that released in complete opposition to the rock-n-roll identity that Radiohead had established itself as with their prior works. A melody descends in electronic hums and the song murmurs into being, building itself up scrambled voices as it progresses. Thom Yorke's voice then lifts itself above the murmurs, finding the right place for himself. This juxtaposition is intriguing, as the electric sounds swirl and crescendo along with his voice, at times appearing to blend into his vocals.
The lyrics are a mix of phrases and questions that seem nonsensical: "Yesterday I woke up sucking on a lemon" to "There are two colors in my head". Yorke has explained them as his feelings on his depression following a Birmingham performance. This uncertainty atop the atmosphere sets the shifting and ever-changing tone that the album carries.
The title track "Kid A" continues that theme of introducing a melody through instrumentation, building upon itself with distorted vocals buzzing as percussion makes its way into the space. The percussion and tempo build up and then dissipate, folding into itself, blending and transforming as the voices still distorted sit amidst a sustained electronic hum. These constant changes and electronic nature of the songs is a foundation for the remainder of the album. However, as change is its nature Kid A does not remain static and will continue to surprise listeners with new instrumentation, dissonant melodies, and unconventional rhythmic structures as they make their way through the fog of sounds that Radiohead has created.
The Music Library has other Radiohead albums: OK Computer (1997) and The Bends (1995).