Student Life
Feature Fridays Radio Rewrite, an album by Steve Reich.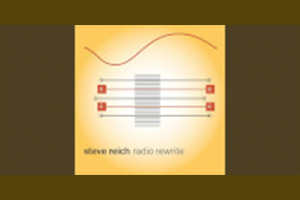 Welcome to Feature Fridays! Every week, the AU music library staff highlights a different CD or artist from our collection. This week, Student Assistant Matt Francisco reviews Radio Rewrite, an album of works by composer Steve Reich.
After hearing Radiohead's guitarist Jonny Greenwood play his 1987 piece Electric Counterpoint, minimalist pioneer Steve Reich was inspired and decided to center his newest work around the sound of Radiohead's rich music. The result is Radio Rewrite, a work that features re-hashed versions of Electric Counterpoint and Piano Counterpoint played by Jonny Greenwood and Vicky Chow.
Greenwood's performance of Electric Counterpoint is quite interesting; his guitar is a bit more mellow sounding than the original, yet the tempo is greatly increased. The first two movements sound similar to the original, but by the third movement of the piece the meter and energy seem to match that of a modern rock song. The result is an exciting performance that shines Reich's classic piece in a new light.
The final piece, Radio Rewrite, features five movements performed by Alarm Will Sound, a New York-based contemporary chamber ensemble. The work sounds like classic Reich material, but mixes in numerous Radiohead-style moments. In an interview with his publisher, Reich notes: "The piece is a mixture of moments where you will hear Radiohead, but most moments where you won't." In effect, the piece—just like Greenwood's interpretation of Electric Counterpoint—once again blends Reich minimalism with the energy of modern alt-rock music.
Stop by the Music Library to hear this great album, and many other works by Steve Reich!