Student Life
Feature Fridays Lush by Snail Mail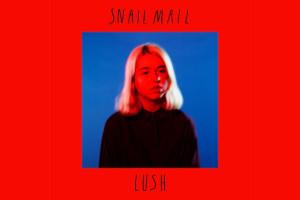 Welcome to Feature Fridays! Each week, AU Music Library staff highlight a CD or artist from our collection. This semester our reviews will feature recent additions to the collection. This week, student assistant Jacob Tracey reviews Lush, by Snail Mail.
Lindsey Jordan, A.K.A. Snail Mail, first hit the scene in 2015 with her debut EP Sticki, which featured just Lindsey and no backing band. At the time, she was playing local shows for her friends, family, and neighbors in and around her hometown in Ellicott City, Maryland. But shortly after the release of her first two EPs, Lindsey began to receive positive critical reception, blowing up in the indie music scene. Fast forward to 2018, Snail Mail as a band released their debut album Lush to much success!
What makes Lush stand out from other music in the indie rock/dream pop genres is the beautiful, vulnerable voice of lead singer Lindsey Jordan, which mixes seamlessly with the dream-like guitars and slow rhythms from the rest of the band. Taking inspiration from such greats as Elliot Smith and Cat Power, Lindsey is able to channel each of her inspirations in a brilliant way that pays homage to their styles while also showing off her own unique approach to songwriting and performing. Each song off of Lush hits the listener on a different level, giving an inside look into love, loss, and heartbreak from Lindsey's perspective. Though only clocking in at around 38 minutes, this album is one you will listen to over and over!
Two of my favorite songs off the record are "Let's Find an Out" and "Stick," the former of which was originally just a last-minute song to bring the time up on the album. In an interview, Lindsey mentions that after first writing it she thought it was "boring." But after spending a day reworking the chords and throwing a little classical guitar styling in, Lindsey ended up writing one of her favorite songs on the record. The song focuses around a somber chord progression, which highlights the feeling of being trapped in a relationship you no longer want to be in or one you want to fix, while hoping to find a way out. The other song I love, "Stick," still eludes me as to its meaning. Whenever I listen to the song, I always find something new to focus on or a moment in the piece that strikes me in a different way. It's a gorgeous "sad girl/boy hours" song that is always stuck on repeat for me. 
Lush is one of our many new arrivals to come into the Music Library at the end of last year! Be sure to come by and check it out as soon as you can. I think Pitchfork said it best in their review of the album, that "Snail Mail's striking debut album is emotionally wise, musically clear, and encompasses the once and future sound of indie rock."
If you like Snail Mail, we also suggest Be The Cowboy by Mitski and Pure Comedy by Father John Misty, both available at the Music Library.