Student Life
Feature Fridays Goodbye Yellow Brick Road by Elton John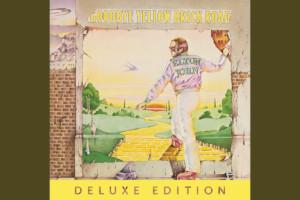 Welcome to Feature Fridays! Each week, AU Music Library staff highlight a CD or artist from our collection. This semester our reviews will feature recent additions to the collection. This week, Music Library Coordinator Amanda Steadman reviews Goodbye Yellow Brick Road, by Elton John.
I came to love Elton John through another great rock musician, Ben Folds, the great piano rocker of the 90s and early 2000s. Folds lists Elton John as one of the great piano rockers: "Each decade there seems to be room for one or two irreverent piano rockers. … I'm talking about straight-up rock-and-roll pianists. Across rock history, you can still boil it down to Jerry Lee Lewis (who was willing to light fire to his instrument just to prove he rocked), Little Richard, Elton John, and Billy Joel." (from Folds' autobiography A Dream About Lightning Bugs). I haven't spent much time with Jerry Lee Lewis or Little Richard (although I now think perhaps I should!), but Elton John and Billy Joel certainly rank among my favorites and prove that indeed, the piano can rock!
Goodbye Yellow Brick Road is Elton John's seventh studio album and was released in 1973. The AU Music Library has recently added it to our collection; we purchase albums based on many criteria. Recently we have purchased many CDs that increase the representation of LGBT artists, like Elton John. This album is widely regarded as Elton John's best and was ranked in Rolling Stone's 500 greatest albums of all time. It is his best-selling studio album. The recent Elton John biopic Rocketman may have also brought it to the forefront.
This album's songs are woven into the fabric of pop culture. "Candle in the Wind" featured prominently in Princess Diana's funeral (or, for you younger folks, it is parodied in Parks and Recreation when Andy writes his tribute to Li'l Sebastian). Katherine Heigl drunkenly shouts "Benny and the Jets" in 27 Dresses, and it is also sampled by Frank Ocean on his song "Super Rich Kids" from his debut Channel Orange. Last summer's Rocketman gave us some context to these songs that, while not new, was perhaps not widely known before the biopic. My favorite from this album is "Saturday Night's Alright for Fighting," a lively song written about a night out. It's been covered by everyone from The Who to Fall Out Boy and features prominently in a scene from Rocketman.
Goodbye Yellow Brick Road is available on CD from the AU Music Library, along with several other Elton John projects. I recommend Greatest Hits 1970-2002 if you're new to Elton John, in addition to this album, as it includes many of his most recognizable songs. For aspiring piano rockers, the library also holds several Elton John scores: Ballads, Elton John Song Book, and Elton John for Singers. If you're interested in other "piano rock," check out works by Billy Joel, Ben Folds, Little Richard, or Jerry Lee Lewis.