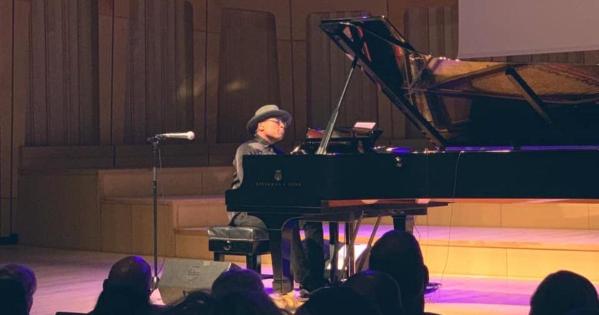 Welcome to Feature Fridays! In this series, AU Music Library staff highlight an item from our collection. While the music library is closed, we will feature items that are available for streaming. This week guest writer Andrew Brown reviews Home, by Alexis Ffrench. 
Alexis Ffrench is the pianist for this holiday season. I discovered his music by accident while hunting for a different album (specifically, A Steinway Christmas Album, which is also on Naxos Music.) To be honest, Ffrench's latest album blew me away. I've known of Alexis Ffrench's music for some time now; I'm familiar with his hit piano solo "Bluebird" -- but his musical ability to bring audiences into a space resembling a fuzzy blanket by the fireplace is evident in his new EP, Home. Ffrench's newest EP is a collection of five holiday songs he arranged for solo piano, putting elements of pop, hip-hop, and jazz into classics like "Feliz Navidad" and "O Holy Night." Home is available to the AU community through Naxos Music Library, a digital streaming database filled with thousands of albums of classical music. Kick back and enjoy Home this holiday season while I tell you the story of Alexis Ffrench. 
Ffrench grew up in Surrey, a small county in England next to Greater London and Berkshire. He was born with the ability of perfect pitch; he could sit at his family piano at three years old and play anything he could hear. His first experience with the classical / pop style he is associated with happened at the age of seven.  He blended 'When a Child is Born' by Johnny Mathis with the processional music of a church service. Ffrench went on to study at The Purcell School and The Guildhall School of Music and Drama, where he studied traditional piano repertoire until his best friend passed away at the age of 23. This tragic moment changed Ffrench's musical talents to supporting good mental health. With its lush jazzy atmosphere and familiar melodies, Home is a perfect example of positive mental health in Ffrench's music.  
Home is an album that goes well with any activity during the holiday season. Wash your car, do the dishes, or study for final exams with this EP playing in the background and you'll feel like a character in a Hallmark Christmas movie. Home brings good energy into the holiday season, something we all need to end this year on a high note.  
In addition to albums and singles from Alexis Ffrench, many Christmas/Hanukkah/winter albums are available through Naxos Music Library and Naxos Jazz with your AU credentials.