On Campus
Five Films to Get Through Finals - Part One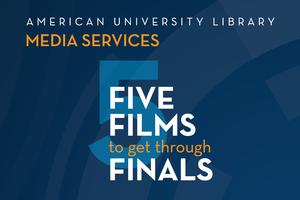 Looking for a way to break up your study sessions during finals? Or maybe a way to pass the time while we social distance? Well the AU Library has thousands of feature films streaming on demand, and all you need is your AU ID and password! The Library's Media/Tech Services staff have put together mini playlists of their favorite streaming films. Just click the link on each title, log in with your AU credentials, and you're ready to go! More movies are added every month, and you can browse our collections on the Media Services website.
---
Emily – Media/Tech Services Student Assistant
Would you rather be living on another planet right now? Yeah, me too. How does Mars sound? The Marian starring Matt Damon will leave you on the edge of your seat and make you forget all about your laundry list of to-dos! Based on the novel by Andy Weir, both the book and the film adaptation had heavy involvement from NASA scientists to make it as scientifically accurate as possible. 
Whoops! Matt Damon is back... but this time in a wholesome family drama. Forget Tiger King, watch Damon alongside Scarlett Johansson in this cute flick about a family zoo that may make you cry. This movie, directed by Cameron Crowe, is also loosely based on the 2008 memoir of the same name by Benjamin Mee who owned a family zoo in England.  
Meryl Streep and Tom Hanks. Enough said. 
Instead of memorizing flashcards, memorize one of the most quotable movies of all time! Don't be fooled by the name, this is no chick flick. Full of action, adventure, laughs from a hilarious cast, and maybe a tiny bit of romance, I guarantee that you'll love this film (and so will your friends and family). The Princess Bride is one of my all-time favorites and will soon be yours too.  
Three Billboards Outside of Ebbing, Missouri
This movie is just as funny as it is sad. With an amazing cast portraying quirky, yet complicated characters, at the 75th Golden Globe Awards Three Billboards Outside Ebbing, Missouri won for Best Motion Picture – Drama, Best Actress – Drama, Best Supporting Actor, and Best Screenplay, and was nominated for Best Director and Best Original Score. It was also named one of the top 10 films of the year by the American Film Institute. 
---
Teddy – Media/Tech Services Student Assistant
Haven't seen it, but I've always wanted to. It's yet another award-winning film by Wes Anderson.
Haven't seen this one either, but I've seen Kiarostami's other films. They're always beautifully crafted -- hopefully the beautiful muted earth tones will sooth anxious students.
Maybe a little scary given the short-term crisis of the coronavirus, and the far longer-term crisis of climate change, but I guess The Day After Tomorrow is at least topical? Anyway, it's a film my dad and I have watched many times, and it's decidedly an exhilarating and exciting story.
Hilarious and loveable movie. Great for taking the edge off incredibly stressful times.
The Secret Life of Walter Mitty
A great film if you're feeling stuck inside. Ben Stiller plays a great space-shot-gone-adventurer as he traverses Iceland, Tibet and New York. Anyone who's a fan of cute stories and beautiful landscapes will love this film.
---
Medha - Media/Tech Services Student Assistant
This movie is a great comedy to distract from the stress that finals week brings. This superhero movie hilarious and Ryan Reynolds's portrayal of Deadpool is fantastic and he is possibly the funniest Marvel character.  
This action-packed movie starring Will Smith and Jeff Goldblum showcases an alien invasion and an ensuing battle to protect the Earth. Even though there are serious moments in the film, there is lighthearted comedy to accompany solemn scenes.  
This is a great movie about the scandal surrounding the illegal invasion of Vietnam by the US. Meryl Streep's performance as Katherine Graham is inspiring and admirable.  
This film stars Kenneth Branagh as Hercules Poirot trying to solve a crime committed on a train headed for Europe. His portrayal is impressive and his journey to solve the murder is gripping.  
I watched this movie several times in theaters and was enthralled by the story it tells of three women who make significant impacts to NASA's missions. The movie was able to capture the brilliance of the women while depicting the struggles they go through as minority women.  
---
Noah – Media/Tech Services Student Assistant
Ken Burns – Baseball: The Tenth Inning
One of my favorite documentary series of all time, Ken Burns' Baseball is an extremely well done look into America's past through the history of its favorite pastime. The Tenth Inning is what was "current" history of baseball, so it is from 1994 to the 2009 season.
One of the first films that I ever saw in theatres, Ice Age was also one of the first to make me cry. This classic story of adventure and friendship is a perfect escape from any final paper or project, and the soothing blue aesthetic of the universe will keep you at ease.
I found this film while looking for entertaining titles from the streaming collection, and this film did not disappoint from what I have watched so far. In The Game, hip-hop's influence throughout society is examined, calling upon some of the biggest names to weigh in on the genre that made them.
Attenborough's Birds of Paradise
One of my favorite nature documentaries ever, David Attenborough's Birds of Paradise is a great showcase of some of the world's most natural beauty. This film will forever be categorized by funny courtship dances from some magnificent birds.
I just recently found this film while looking for cat films available in the streaming collection. I watched this film for about 10-15 minutes skimming through to see if it was worth including in the collection, and it did not disappoint. This film is an incredibly eccentric 1970's horror film (but not frightening whatsoever) about a horror writer who discovers that cats are supernatural beings that really control what goes on in society.
---
Lili – Media/Tech Services Student Assistant
It's a toss-up which mob movie is my favorite between Goodfellas and The Godfather but Goodfellas isn't available for streaming so this one takes the spot for now. If you haven't seen this movie then you really don't know anything because it's one of the most famous movies of all time. The way I describe why I like it is that instead of watching kids' movies I watched The Godfather with my family when I was young… so yeah watch it.
This movie is a classic and it's funny and just a good movie all around. It's about baseball and summertime so it's a great movie to watch right now in quarantine to get ready for summer which will hopefully be outside.
This is purely a funny movie and I saw it when I was younger but honestly it could still be funny now. It's kind of a dumb movie but overall still a good movie.
This is a good thriller movie with some famous actors, so you won't be disappointed with it. It also focuses on a house for the plot so it can be pretty timely right now since we are all stuck in our house.
This is a good movie if you want something sweet and sad. It is based on a Nicolas Sparks novel and if you know his books then you know pretty much how this movie plays out. I would say watch this when you want something sad but don't watch it if you are already sad lol.
---
Tara – Tech Services Supervisor
An adorable version, though admittedly Wishbone did it better.
This King Lear is EPIC. It was actually too scary live.
The easiest-to-love opera of all, this recording of Carmen is the first opera I ever saw.
Prokofiev is boss and the ballet is pretty.
Clearly proves we are in the best of all possible worlds.
---
Jen – Media/Tech Services Student Assistant
Master and Commander: The Far Side of The World
I added this film to my streaming collection because it's a movie that takes you back with excellent detail. Also, Russell Crowe with his ponytail is just amazing.  
I watched this film for a class and found it to be inspiring, dramatic, and a history lesson all in one.  
I've always wanted to watch this film. I am a big fan of Jane Austen's other books and the movies adapted to them but I haven't seen this one yet. Look forward to watching it.  
This movie is awesome. I mean who doesn't want to be a kickass secret killer with a hot, hot husband who's also a secret killer. Just saying.  
I just watched this movie the other day. It's intriguing and eye-opening. Plus, although the only reason Jamal knows all the answers is because of his difficult life, I was kinda jealous of his winnings.  
Be sure to visit our Media Services department online!