On Campus
Five Films to Get Through Finals - Part Two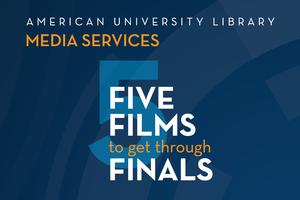 Looking for a way to break up your study sessions during finals? Or maybe a way to pass the time while we social distance? Well the AU Library has thousands of feature films streaming on demand, and all you need is your AU ID and password! The Library's Media/Tech Services staff have put together mini playlists of their favorite streaming films! Here's another edition of our Just click the link on each title, log in with your AU credentials, and you're ready to go! More movies are added monthly, and you can browse our collections on the Media Services website.
---
Cheyanne – Media/Tech Services Student Assistant
I watched this in my dorm room with a friend and we couldn't stop talking about it ever since. The visuals are absolutely stunning and dream-like and I fell in love with all 20 or so of Maggie Cheung's qipaos. It captures loneliness and longing quietly, but perhaps that's what makes it even more heartbreaking
Rise of the Planet of the Apes
I still remember the day I binged the Planet of the Apes trilogy, nori seaweed popcorn and chopsticks in tow. I've rewatched it twice now. It's an epic revolution that's action-packed and you'll start to question whose side you're on: the humans or the apes? Luckily for us, Media Services has the entire trilogy and the original series in our streaming collection.
The first rule of Fight Club is: you do not talk about Fight Club.
I grew up with three out of six of my sisters and believe me when I say we fought a lot. However, Anastasia seemed to be the one film we could all agree was worth watching together multiple times. There's catchy songs, youthful romance, and a haunting sort of beauty to the story that unfolds.
My first conversation with my summer roommate was about the boyish charm of young Keanu Reeves, who happens to be the lead in Speed. Speed is the kind of thriller that will literally have you on the edge of your seat while yelling angrily at your screen (but in a good way).
---
Andrew – Media/Tech Student Assistant
Wes Anderson is absolutely amazing, his films have a very unique color pallet and style that allow them to be not only extremely recognizable but also add to the story through their mise-en-scene elements. The Grand Budapest Hotel is a great example of Wes Anderson at his best. This film is one of my favorites, it captures your attention with its visuals and keeps you drawn in with its story. 
This is one movie I remember watching right after I read the book. I was disappointed because the book just stood out so much better than the movie did. Eventually I rewatched the movie a few years later and absolutely loved it. It's a well researched, creative story with Matt Damon right in the center. 
By far one of my favorite films of all time. Even if you're not a big film person, you've probably heard someone tell you to watch the Godfather. The Godfather is the first movie in one of the greatest trilogies ever made. In my opinion, the second one is the best but you have to start at the beginning. I realize this is a streaming guide to get through finals so I'll add this little disclaimer, be carefully starting this movie because the whole trilogy is a little over 9 hours and there's a good change you might end up watching all of them instead of studying. 
Action movies have never been made to win awards, usually just entertainment and profit. However, Kingsman decides to take the time to elevate aspects of an action movie, which allows it to stand out from among the crowd. For example, this movie won 1 award for best fight scene (and if you've seen the movie you probably know which one) and got nominated for two other awards all at the same award ceremony. All the awards were stunts categories. Overall, take the generic hero story, the generic villain that wants to take over the world but add in some creativity and uniqueness and you get an awesome action movie. 
Logan is probably one of my favorite superhero movies ever made, I have a special love for the MCU, and most people are extremely confused by the fact that one of my favorites isn't in the MCU, but Logan deserves it. It takes a more serious tone to the world of mutants but through this it stands out as something different.  
---
India – Media Services Supervisor
This is one of those movies that I've been meaning to watch for years, but never got around to it. It will be a nice palate cleanser between editing term paper #1 and term paper #2. I can't wait to shut my brain off for a few hours and watch this LGBTQ romantic comedy.
I love Jane Austen adaptations, as long as they conform to my ideas about her books. The costumes in this particular adaptation are... something else. They're a 1940s take on mid-Victorian, but the actual story is set in the Regency Era, about 50 years before the costumes suggest. This adaptation also takes way too many liberties with the novel. That being said, Greer Garson is the best Elizabeth Bennet I've ever seen on film. If you can ignore the insanity going on around her and focus on her performance, then you'll love this movie.
Another movie I keep meaning to watch, but just haven't gotten around to it. It combines two of my favorite genres – espionage thrillers and comic book adaptations. I don't know why I haven't watched it before now.
This is one of my favorite movies of all time. The cast is amazing, the soundtrack is fantastic, and I want all of Zooey Deschanel's clothes. I love this movie because it flips the traditional romantic comedy formula and undermines it in a really thought-provoking and clever way.
Live from Lincoln Center: Falsettos
Okay so this isn't technically a movie, it's a filmed Broadway performance. I didn't get to see Falsettos revival when it was running, but lucky for me it's streaming on Broadway HD. The cast is comprised of Broadway royalty, and I'm super excited to watch the performance.
---
Jason – Media/Tech Services Student Assistant
The Princess Bride is one of my favorite movies, and not just because of the amazing plotline. My junior year of high school, I was a part of the stage crew for my school's production of the play version of this film. So, watching this movie brings back those happy memories to me.
I absolutely love this movie. The cast is amazing, and it's one of the best feel-good movies there is. As a former dinosaur kid, I also really appreciate the t-rex character. Anyway, I plan to watch this movie once I'm done with all my term papers to celebrate the semester (almost) being over.
While I haven't seen this movie yet, I'm planning to watch it sometime before the end of this semester. I've heard good things about Wes Anderson, and as a cat person, I think it might be a good idea to watch a dog movie now and again to expand my horizons or something.
Ok so, I've been meaning to see this movie for a while. As a psychology major, I've come to really appreciate psychological dramas. I also have a social psych final exam coming up next week, so this film will be a nice way to both relax while and also (potentially?) study for my test.
While I wish this movie had a more accurate portrayal of Freddie Mercury, I can still appreciate the film for what it is. Bohemian Rhapsody is a fun yet hard-hitting film, and I plan to watch it sometime during one of my little-too-long study breaks.
---
Abby – Media/Tech Services Student Assistant
Gone-Girl is a thrilling drama that I first saw several years and was a ride from start to finish. It has an all star cast and a wild ending.
This is a film I have been dying to watch because it has become a cult-classic for independent romantic comedies and stars two of my favorite actors, Joseph Gordon-Levitt and Zooey Deschanel.
As a long-time lover of Queen, I've been both dying and dreading to see this film, as I know that it contains both the rise and fall of one of the greatest musical legends.
This film gets me through every finals season and has been a childhood favorite. It's a cult classic and for good reason.
This is a comedy that will be sure to provide some relief during this finals season. Ryan Reynolds is hilarious and this is the one superhero movie I can actually sit all the way through.
---
Curtis – Media/Tech Services Student Assistant
Likely the best Nicholas Cage movie of all time, Raising Arizona is the hilarious and heartwarming story of a couple who kidnap the baby of a wealthy local businessman to raise as their own.  
One of my favorite films, The Princess Bride is a must see. A classic tale of saving the princess blended in with a healthy amount of humor-and some of the best lines in Hollywood history-make for one fantastic movie.
A biopic of legendary singer Freddie Mercury, this soundtrack-heavy reminds you of why you loved Queen so much in the first place. The movie is only heightened by Remi Malek's fantastic performance as Mercury, a notoriously complicated and nuanced figure. In my opinion, this was hands down the best film of 2018.
I'm not usually one for musicals, but my friends keep telling me that I'm seriously missing out on this one. And after hearing parts of the soundtrack, I'm starting to think they might be right.  
If you're still stuck on the idea that superhero films are for kids, this should put an end to that. As dark, violent, and gritty of a movie as there ever was, Logan is the perfect finale for Hugh Jackman's iconic Wolverine.
---
Sean – Media/Tech Services Manager
All of these documentaries come from Folkstreams, one of our streaming databases. It is a treasure box of American culture. Their site has hundreds of documentaries made freely available by the filmmakers because they understand the value of preserving the richness and variety of what makes up this country.
Be sure to visit our Media Services department online!